There were no deaths due to COVID-19 in Saskatchewan keeping the total at 937.
There are 35 cases of COVID-19 in the province today. One of the cases have been identified as an Omicron variant.
Of those new cases 13 are in the Regina area, 9 are in the Saskatoon zone and 5 are in the North Central region.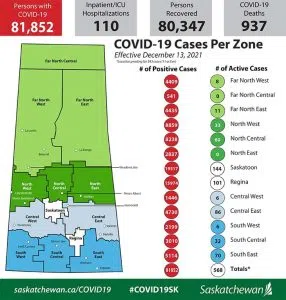 110 hospitalized cases of COVID-19 in the province including 34 in ICU.
The active case count is down to 568 along with 79 recoveries.
On the vaccine front there were 1,147 doses issued including 311 individuals receiving their second dose.