There are 108 new cases of COVID-19 today in Saskatchewan.
Of those new cases, 24 are located in the Central East area, 19 cases have been reported in both the North Central and South east sections with the Regina and Saskatoon zones both reporting 12 cases.
83 people have recovered from COVID-19 with the active case count is now at 1,017.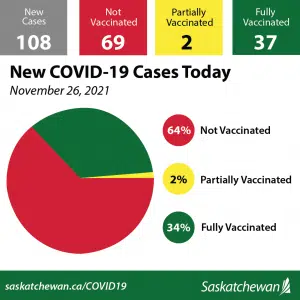 One more person has died due to COVID-19 increasing the death total to 916.
There are 143 people in hospital due to COVID-19 including 41 in ICU.
On the vaccine front, 4,183 vaccines were administered including  1,443 individuals now fully vaccinated.