The province announced that there are 121 new cases of COVID-19 in Saskatchewan today.
Of those new cases, the Saskatoon area reported 30, there were 18 in the South East region and there was 15 reported in the North West zone. Inside of the Regina area there are 8 cases.
Four more people died due to COVID-19 in the province increasing the death toll to 878. There are six less people in hospital due to COVID-19, with the total of hospitalized cases now at 187 including 52 in ICU.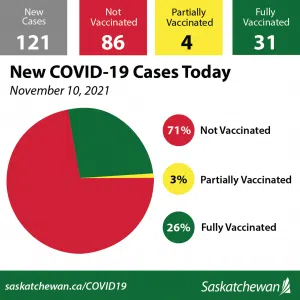 Another 166 people have recovered with the active case count decreasing to 1,374.
On the vaccine front, another 2,532 vaccines were issued 1,668 individuals are now fully vaccinated.