There are 38 new cases of COVID-19 being reported on Tuesday.
The new cases are located in  Far North West, 17; Far North Central, 1; Far North East, 4; North West, 1; North Central, 3; Central East, 2; Regina, 9; and South East, 1.  The new cases in the Far North west are connected to an outbreak on the Buffalo River Dene First Nation
No new deaths were reported today. One death previously reported in the North Central zone in the 60-69 age group is no longer considered a COVID-19 death. This brings the total COVID-19 death count to 578.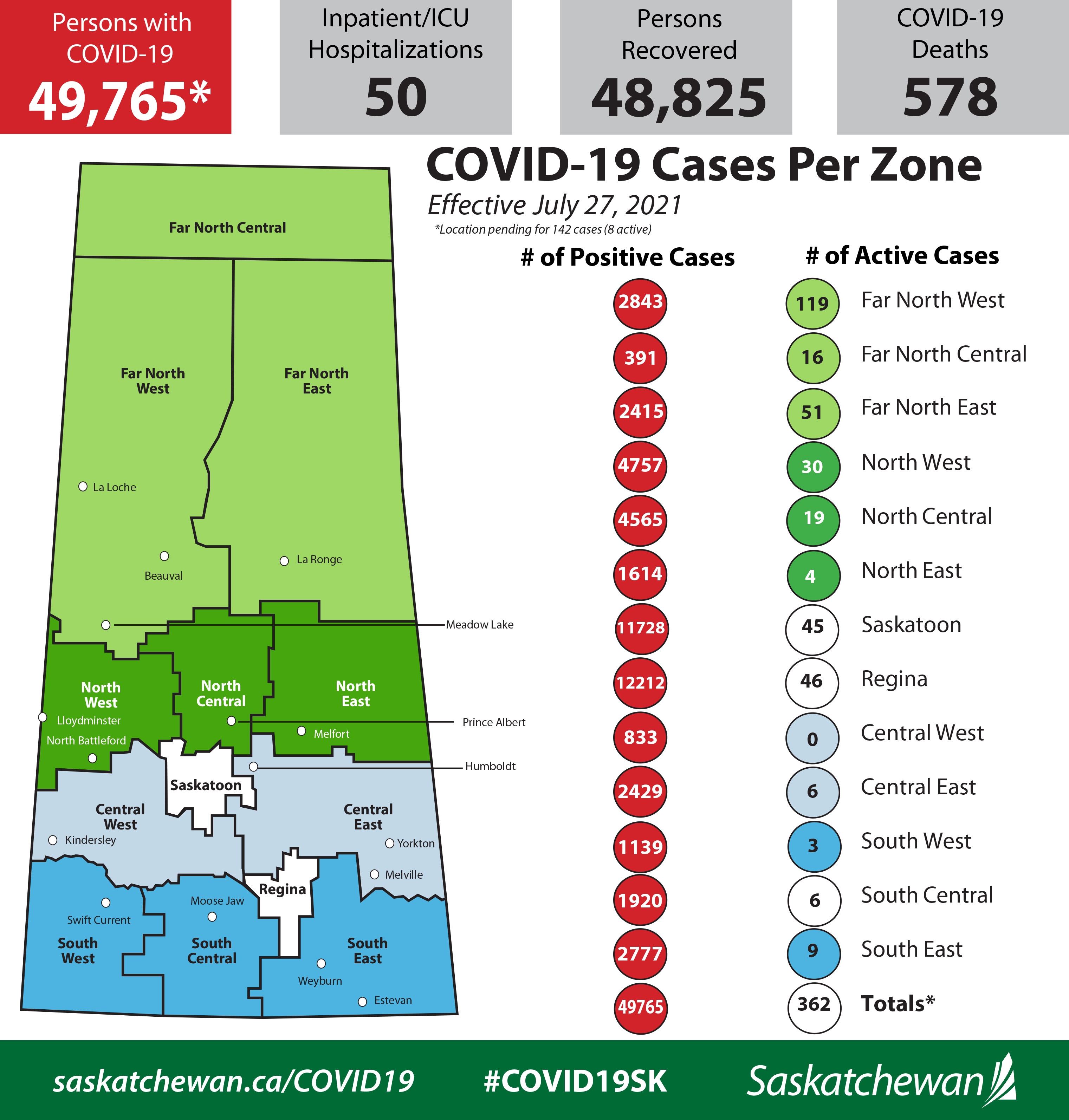 The active case count is now at 362 with the Regina zone having 46 of those cases
Only 50 people are now in hospital with 10 in intensive care.
There were 1,933 vaccines delivered on Monday.  490 of those were first doses
Status of Population Vaccinations, as of July 26, 2021
Group
Estimated
Population
Received
First Dose
Fully 
Vaccinated
Age 80+
51,352
47,813 (93%)
45,310 (88%)
 Age 70-79
82,304
74,404 (90%)
70,435 (86%)
Age 60-69
140,471
121,893 (87%)
113,037 (80%)
Age 50-59
142,537
114,255 (80%)
101,027 (71%)
Age 40-49
150,870
110,335 (73%)
92,840 (62%)
Age 30-39
178,012
116,905 (66%)
92,709 (52%)
Age 18-29
181,622
114,836 (63%)
81,870 (45%)
Age 12-17
91,446
56,461 (62%)
36,017 (39%)