26 new cases, 20 recoveries and no deaths.   That is the information provided by the province in its daily COVID-19 update.
With those numbers, the active case count crawls up to 287.
The new cases are located in the following zones: Far North West, 14; Far North East, 1; North West, 2; North Central, 1; Saskatoon, 5; Regina, 1; and South Central, 1.  One case is pending residence information.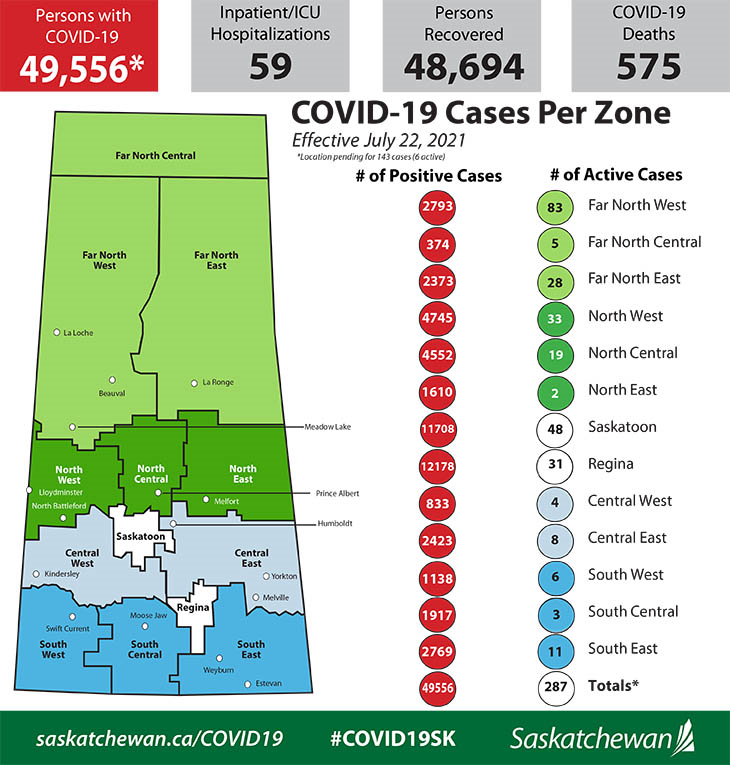 There are 59 people in hospital with eleven now in intensive care including three in Regina.
No new lineage results were reported for Variants of Concern today. Of the 7,961 VOCs with lineages identified by whole genome sequencing in Saskatchewan, 7,027 are Alpha (B.1.1.7), 505 are Delta (B.1.617.2), 419 are Gamma (P.1), and 10 are Beta (B.1.351).
Just under 7,300 vaccines were delivered in Saskatchewan on Wednesday including 1,475 who received their first shot.
The province says 74 percent of those 12 and over have gotten at least one dose with 60 percent of those 12 and over now fully vaccinated.
Status of Population Vaccinations, as of July 20, 2021
Group
Estimated
Population
Received
First Dose
Fully 
Vaccinated
Age 80+
51,352
47,786 (93%)
45,166 (88%)
 Age 70-79
82,304
74,296 (90%)
69,953 (85%)
Age 60-69
140,471
121,597 (87%)
111,789 (80%)
Age 50-59
142,537
113,786 (80%)
99,209 (70%)
Age 40-49
150,870
109,665 (73%)
89,942 (60%)
Age 30-39
178,012
115,880 (65%)
88,608 (50%)
Age 18-29
181,622
113,358 (62%)
77,228 (43%)
Age 12-17
91,446
55,694 (61%)
31,918 (35%)