The active COVID-19 case count in Saskatchewan continues to drop.
Tuesday's update from the government shows 27 new cases with the active case count now sitting at 375.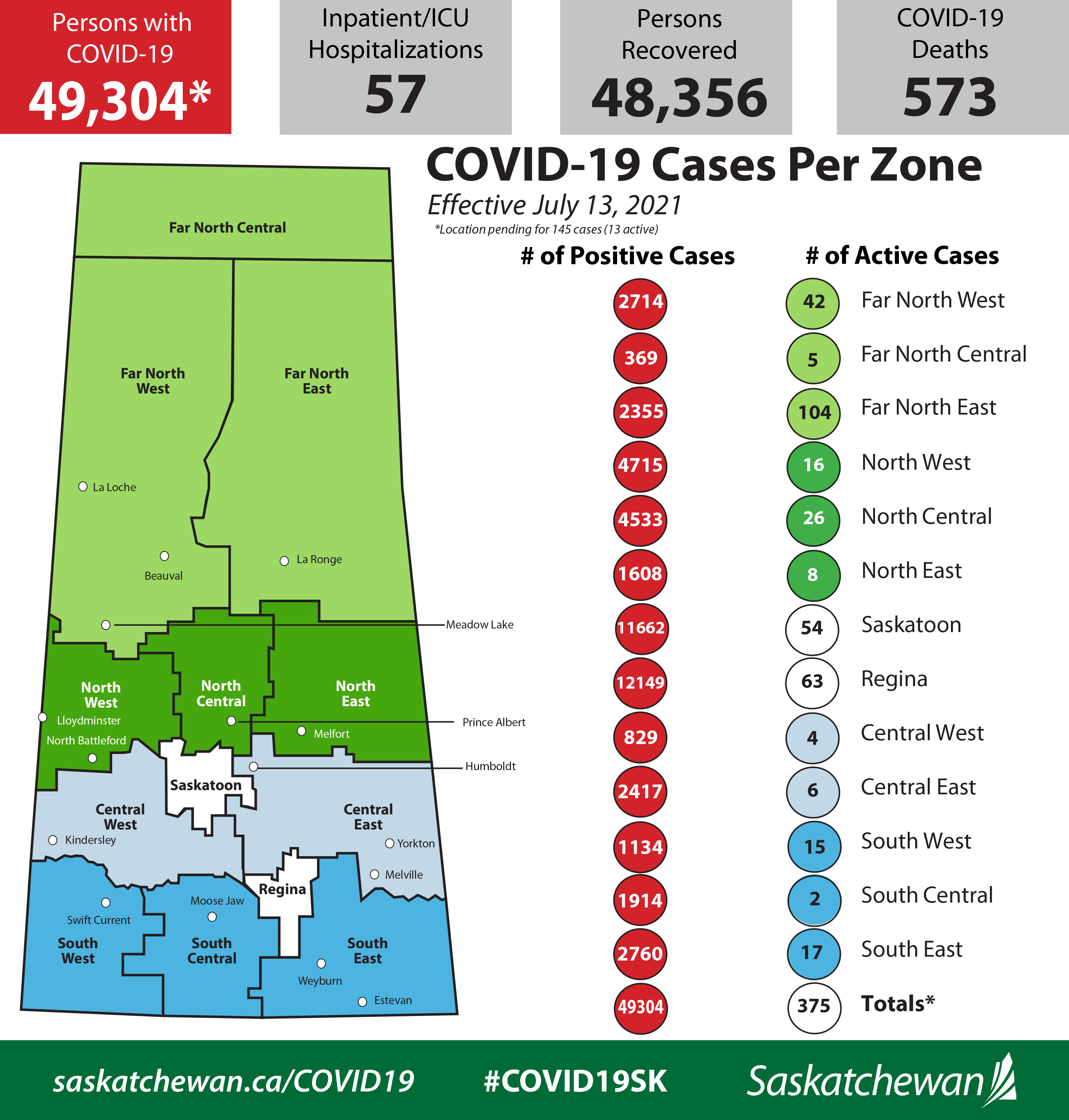 Of those 375 cases, 63 are from the Regina zone.  For the second straight day, the Regina zone accounts for just one new case.  Other new cases are in Far North West, 5; Far North East, 10; North West, 3; Saskatoon, 2; Central East, 2;  South West, 1; and South East, 3.
There are 57 people in hospital with 10 of those in the ICU including four in Regina.
Only 2,419 vaccines were given out on Monday.  The government says 73 percent of those 12+ have received their first dose and that 55 percent of those 12+ are fully vaccinated.
Status of Population Vaccinations, as of July 12, 2021
Group
Estimated
Population
Received
First Dose
Fully 
Vaccinated
Age 80+
51,352
47,698 (93%)
44,815 (87%)
 Age 70-79
82,304
74,050 (90%)
68,974 (84%)
Age 60-69
140,471
120,917 (86%)
108,735 (77%)
Age 50-59
142,537
112,769 (79%)
94,210 (66%)
Age 40-49
150,870
108,247 (72%)
82,046 (54%)
Age 30-39
178,012
113,785 (64%)
77,883 (44%)
Age 18-29
181,622
110,062 (61%)
64,964 (36%)
Age 12-17
91,446
54,269 (59%)
23,516 (26%)