17 new COVID-19 cases.
That is what the province is reporting in its daily update on the virus Monday.   It is the lowest one-day number since October 7th, 2020 when 16 cases were announced.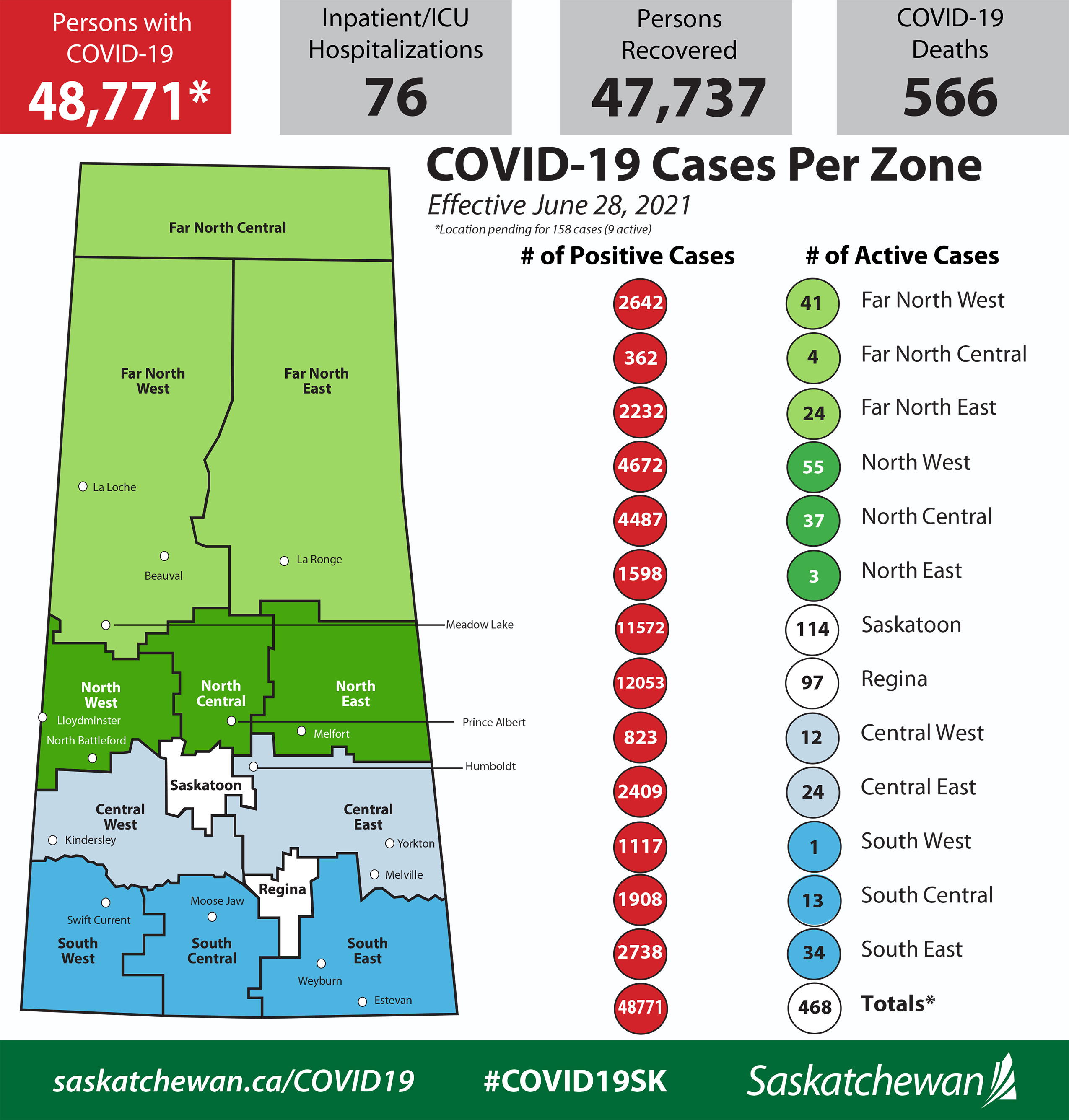 The new cases are located in the following zones: Far North West, 2; Far North East, 1; North West, 1; North Central, 1; Saskatoon, 3; Central East, 1; Regina, 4; and South East, 3. One new case is pending residence information. Three cases pending residence have been assigned to the Far North East, 1; and North West, 2, zones.  The active case count now sits at 468 with the Regina zone having 97 of those.  It is the first time since October 25th, 2020 that the Regina zone has not been in triple digits.
There are 76 people in hospital including 13 in intensive care.
When it comes to vaccines, 12,395 were delivered on Sunday.
COVID-19 Vaccine Doses Delivered in Saskatchewan (as of June 28, 2021)
| Region | 1st Doses Given | Fully Vaccinated | Total Doses Given |
| --- | --- | --- | --- |
| Far North West | 11,378 | 7,341 | 18,719 |
| Far North Central | 802 | 515 | 1,317 |
| Far North East | 9,948 | 5,881 | 15,829 |
| North West | 46,160 | 23,352 | 69,512 |
| North Central | 47,587 | 28,310 | 75,897 |
| North East | 24,731 | 15,780 | 40,511 |
| Saskatoon | 201,883 | 104,557 | 306,440 |
| Central West | 21,302 | 13,252 | 34,554 |
| Central East | 57,434 | 35,416 | 92,850 |
| Regina | 172,110 | 95,536 | 267,646 |
| South West | 21,305 | 13,324 | 34,629 |
| South Central | 36,198 | 21,747 | 57,945 |
| South East | 49,008 | 31,065 | 80,073 |
| Total Saskatchewan | 721,495¹ | 406,188² | 1,127,683 |
Status of Population Vaccinations, as of June 27, 2021
Estimated
Population
Received
First Dose
Fully 
Vaccinated
51,304
47,526 (93%)
43,867 (85%)
79,817
73,562 (92%)
66,042 (83%)
138,471
119,561 (86%)
98,985 (71%)
147,466
110,813 (75%)
76,167 (52%)
151,896
105,493 (69%)
49,417 (33%)
183,246
109,616 (60%)
38,955 (21%)
189,909
103,459 (54%)
27,969 (15%)
90,987
51,376 (56%)
4,775 (5%)