With the province hoping to be able lift all COVID-19 related public health restrictions on July 11, they are announcing 55 new cases and one new death
As it stands right now, the government says 69 percent of those 18 and older have received their first dose.  If that hits 70, the province will start Step 3 of its Roadmap to ReOpening plan on July 11. If just three percent of eligible residents 12 and over get their shot in the next six days, the restrictions will be lifted as 67 percent have gotten their first dose.
The new cases are located in the following zones: Far North West, 1; Far North East, 1; North West, 4; North Central, 2; Saskatoon, 23; Central West, 3; Central East, 3; Regina, 12; South West, 2; South Central, 3; and South East, 1.
The latest death is a person aged 80 plus from the Saskatoon zone.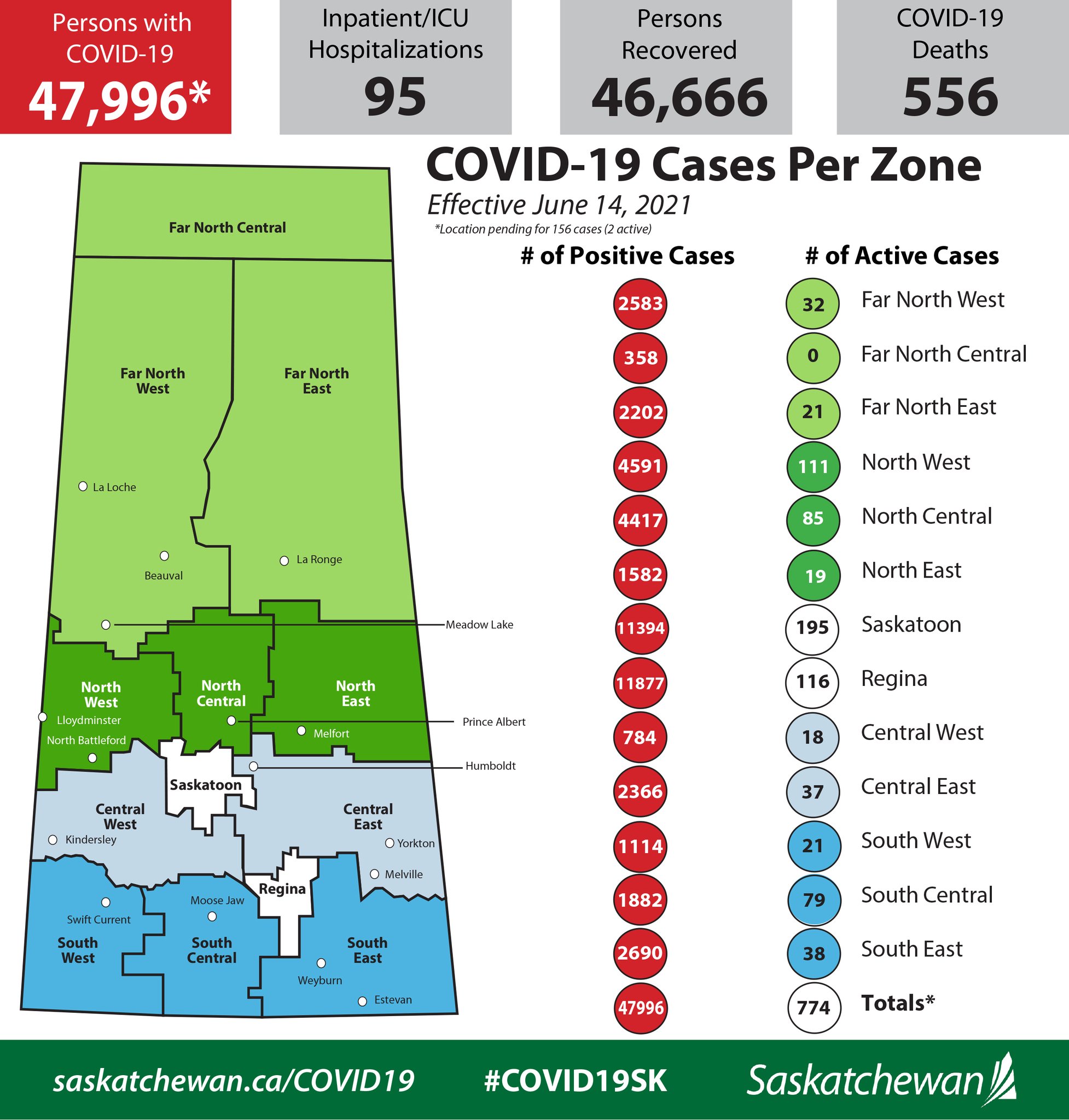 There are 95 people in hospital with 19 of those in intensive care.
The seven-day average of new COVID-19 case number is 76.  This is the lowest seven-day average since November 4, 2020.
Over 9,900 vaccines were administered Sunday meaning the province has now surpassed the 900,000 mark.
Status of Population Vaccinations, as of June 13, 2021
Group
Estimated
Population
Received
First Dose
Fully 
Vaccinated
Age 80+
51,304
47,181 (92%)
41,547 (81%)
Age 70-79
79,817
72,604 (91%)
56,382 (71%)
Age 60-69
138,471
117,174 (85%)
62,477 (45%)
Age 50-59
147,466
108,084 (73%)
22,372 (15%)
Age 40-49
151,896
102,619 (68%)
10,862 (7%)
Age 30-39
183,246
104,494 (57%)
10,374 (6%)
Age 18-29
189,909
95,506 (50%)
7,535 (4%)
Age 12-17
90,987
43,905 (48%)
239 (0%)