For the seventh straight day, the amount of new COVID-19 cases in Saskatchewan are in the double digits.
The province is announcing 77 new infections to go along with 129 new recoveries.  This puts the active case count at 902.
There has also been another death as a person in their 70's from the East-central zone has passed away because of complications from the virus.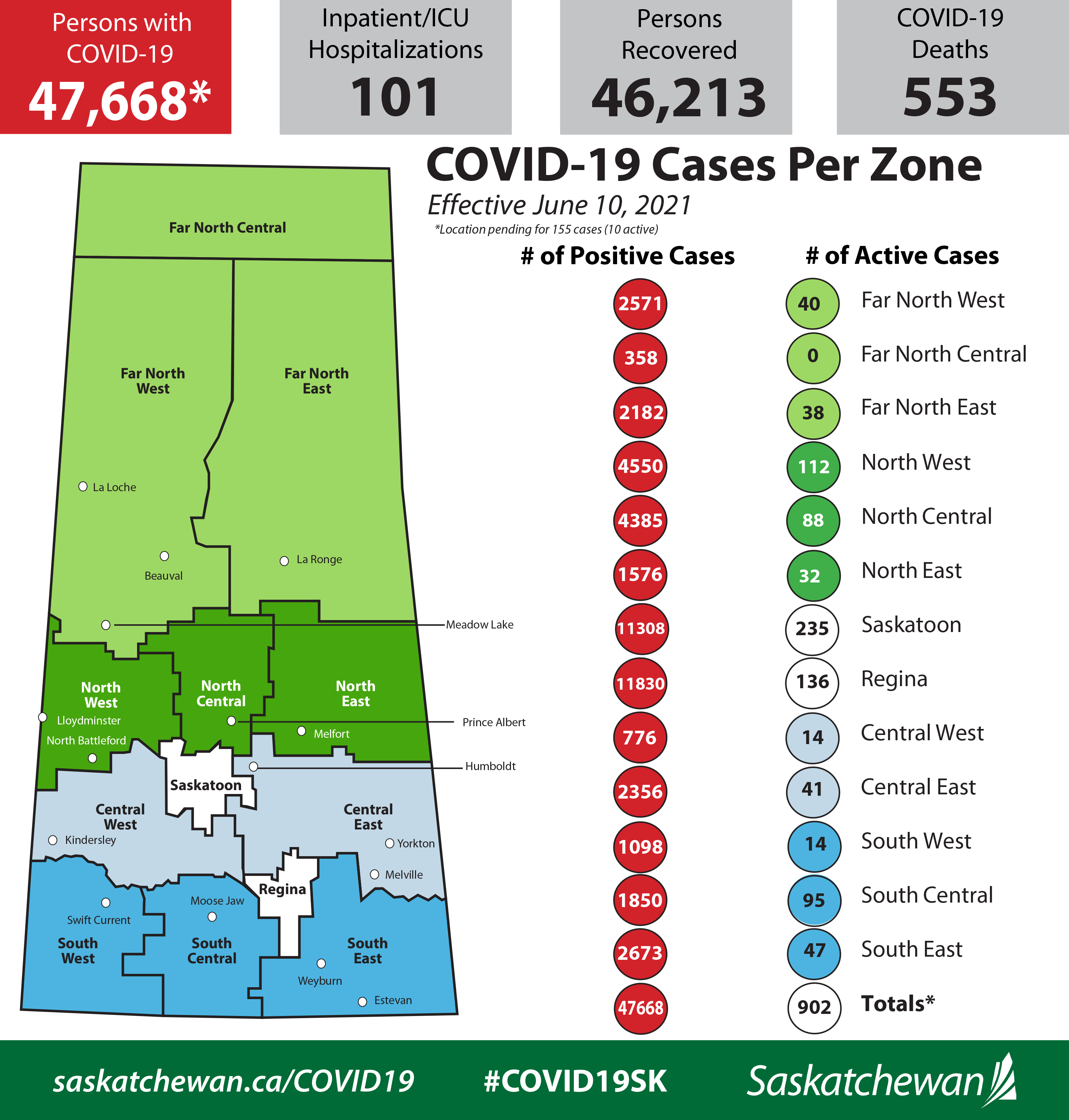 The new cases are located in the following zones: Far North West, 9; Far North East, 1; North West, 8; North Central, 10; Saskatoon, 18; Central East, 1; Regina, 8; South West, 2; South Central, 12; and South East, 7
The province says there are 101 in hospital with 19 people in intensive care.
Almost 17000 vaccines were handed out across the province on Wednesday.  Saskatchewan is expecting another 3,000 doses of the Moderna vaccine, along with 74,880 doses of Pfizer vaccine this week.
Status of Population Vaccinations, as of June 9, 2021
Group
Estimated
Population
Received
First Dose
Fully 
Vaccinated
Age 80+
51,304
47,049 (92%)
40,060 (78%)
Age 70-79
79,817
72,161 (90%)
48,689 (61%)
Age 60-69
138,471
116,296 (84%)
40,207 (29%)
Age 50-59
147,466
107,591 (73%)
12,747 (9%)
Age 40-49
151,896
101,646 (67%)
9,364 (6%)
Age 30-39
183,246
102,783 (56%)
9,047 (5%)
Age 18-29
189,909
92,607 (49%)
6,522 (3%)
Age 12-17
90,987
38,405 (42%)
186 (0%)