For the first time since November 7, 2020, Saskatchewan's active COVID-19 case count is under the 1000 mark.
The information comes as the government announces 57 new cases of the virus to go along with 171 new recoveries and one death meaning the active case count is now at 938. The person who died was in the West-Central zone and was in their 50's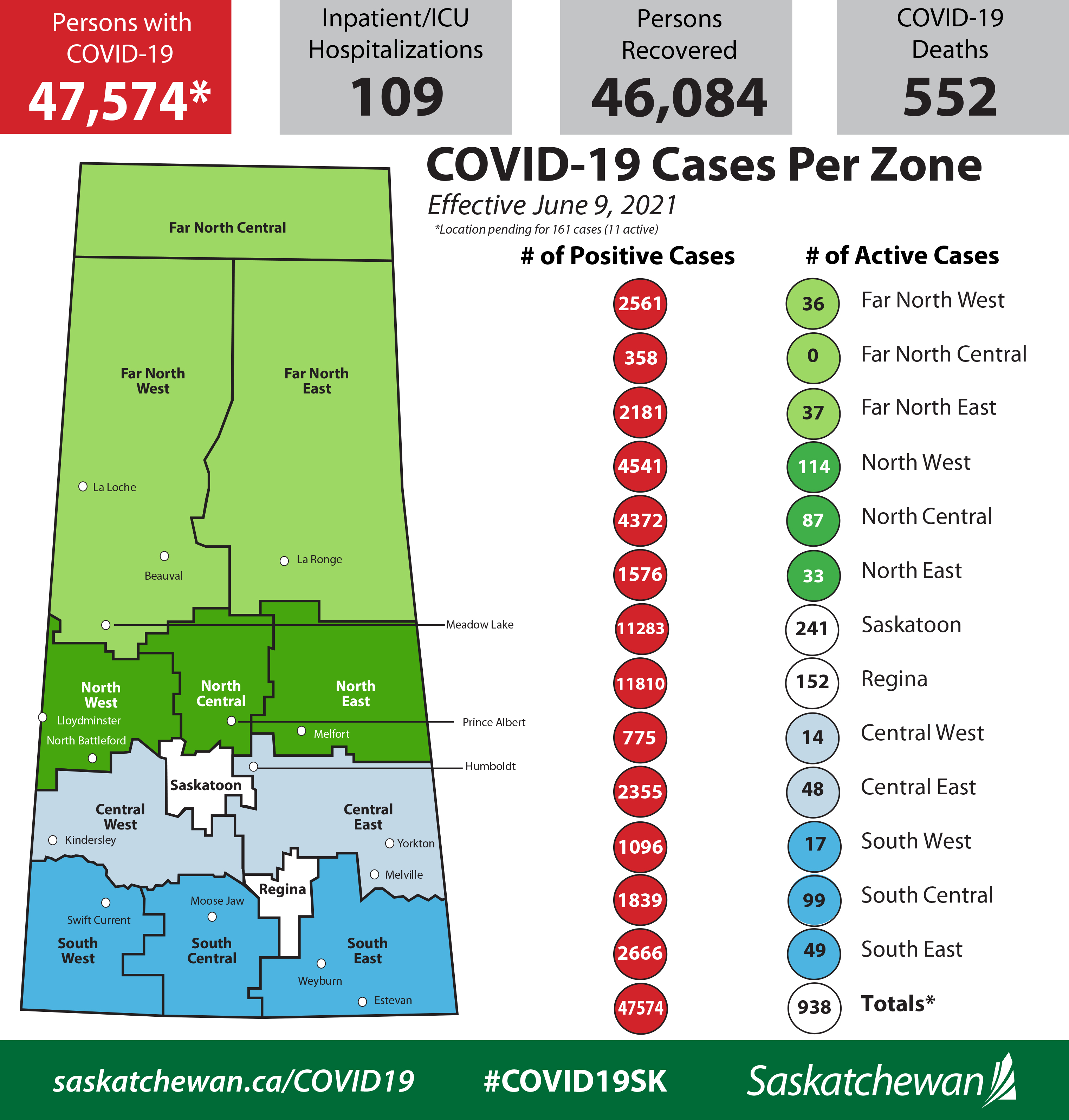 The new cases are located in the following zones: Far North West, 1; Far North East, 4; North West, 5; North Central, 3; North East, 2; Saskatoon, 21; Central West, 1; Central East, 6; Regina, 12; and South Central, 1;
The amount of those in hospital is increasing again.  After being below 100, a couple of days ago, the number is now up t0 109. Twenty of those are in the ICU.
The seven-day daily average of new cases is 87.
12,528 vaccines were delivered on Tuesday.
Status of Population Vaccinations, as of June 8, 2021
Group
Estimated
Population
Received
First Dose
Fully 
Vaccinated
Age 80+
51,304
46, 986 (92%)
39,451 (77%)
Age 70-79
79,817
71,977 (90%)
45,359 (57%)
Age 60-69
138,471
116,051 (84%)
32,003 (23%)
Age 50-59
147,466
107,507 (73%)
12,121 (8%)
Age 40-49
151,896
101,324 (67%)
9,116 (6%)
Age 30-39
183,246
102,306 (56%)
8,804 (5%)
Age 18-29
189,909
91,831 (48%)
6,331 (3%)
Age 12-17
90,987
37,231 (41%)
177 (0%)