It is another good news, bad news day when it comes to COVID-19 in Saskatchewan.
The Ministry of Health says there are 99 new cases to report as well as three deaths.  Two of the three who have died because of complications from the virus are from the Northwest zone with the other person in their 60's from the Saskatoon zone.
The new cases are located in the following zones: Far North West, 6; Far North East, 1; North West, 19; North Central, 8; North East, 4; Saskatoon, 16; Central West, 3; Regina, 11; South West, 3; South Central, 18; and South East, 9.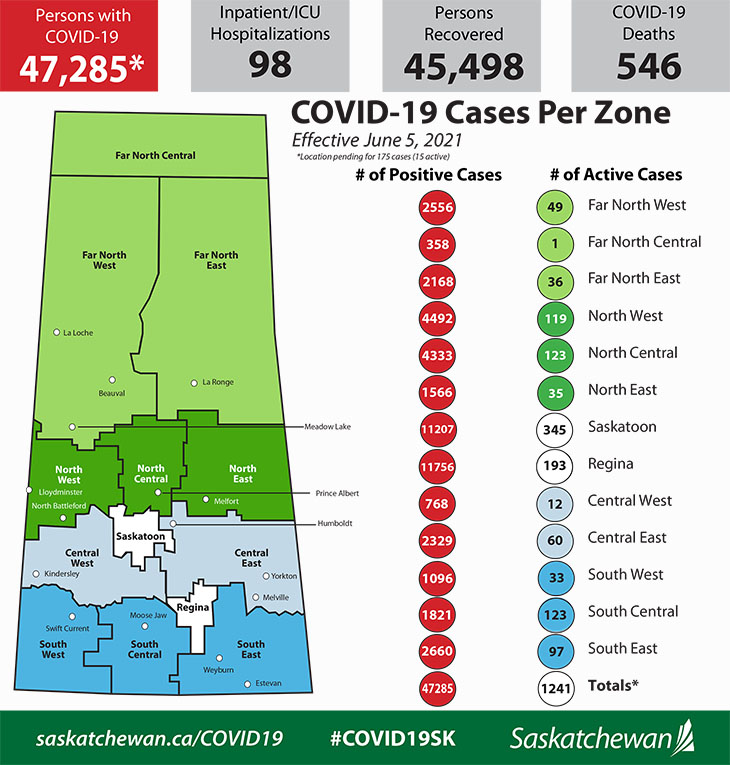 Of the 1,241 active cases in Saskatchewan. Regina has 193 of them.  It is the first time since November 6 that Regina has been below 200 active cases.
There are also fewer than 100 people in hospital for the first time since November 22 as there are 98 receiving care.  Of those 98, 19 are in intensive care including two out-of-province transfers from Manitoba.
Almost 17,000 vaccines were administered Friday
Status of Population Vaccinations, as of June 4, 2021

Group

Estimated
Population

Received
First Dose

Fully 
Vaccinated

Age 80+

51,304

46,856 (91%)

37,480 (73%)

Age 70-79

79,817

71,559 (90%)

36,420 (46%)

Age 60-69

138,471

115,639 (84%)

16,017 (12%)

Age 50-59

147,466

107,141 (73%)

10,215 (7%)

Age 40-49

151,896

100,538 (66%)

8,313 (5%)

Age 30-39

183,246

100,895 (55%)

8,158 (4%)

Age 18-29

189,909

89,398 (47%)

5,854 (3%)

Age 12-17

90,987

32,437 (36%)

134 (0%)