The province says there were 89 new cases of COVID-19 diagnosed on Thursday.  With 111 recoveries also being announced, the province's active case count now sits at 1,292 with 213 of those cases in the Regina region.  One month ago on May 4, there were 2,305 active cases with 673 of them located in the Regina zone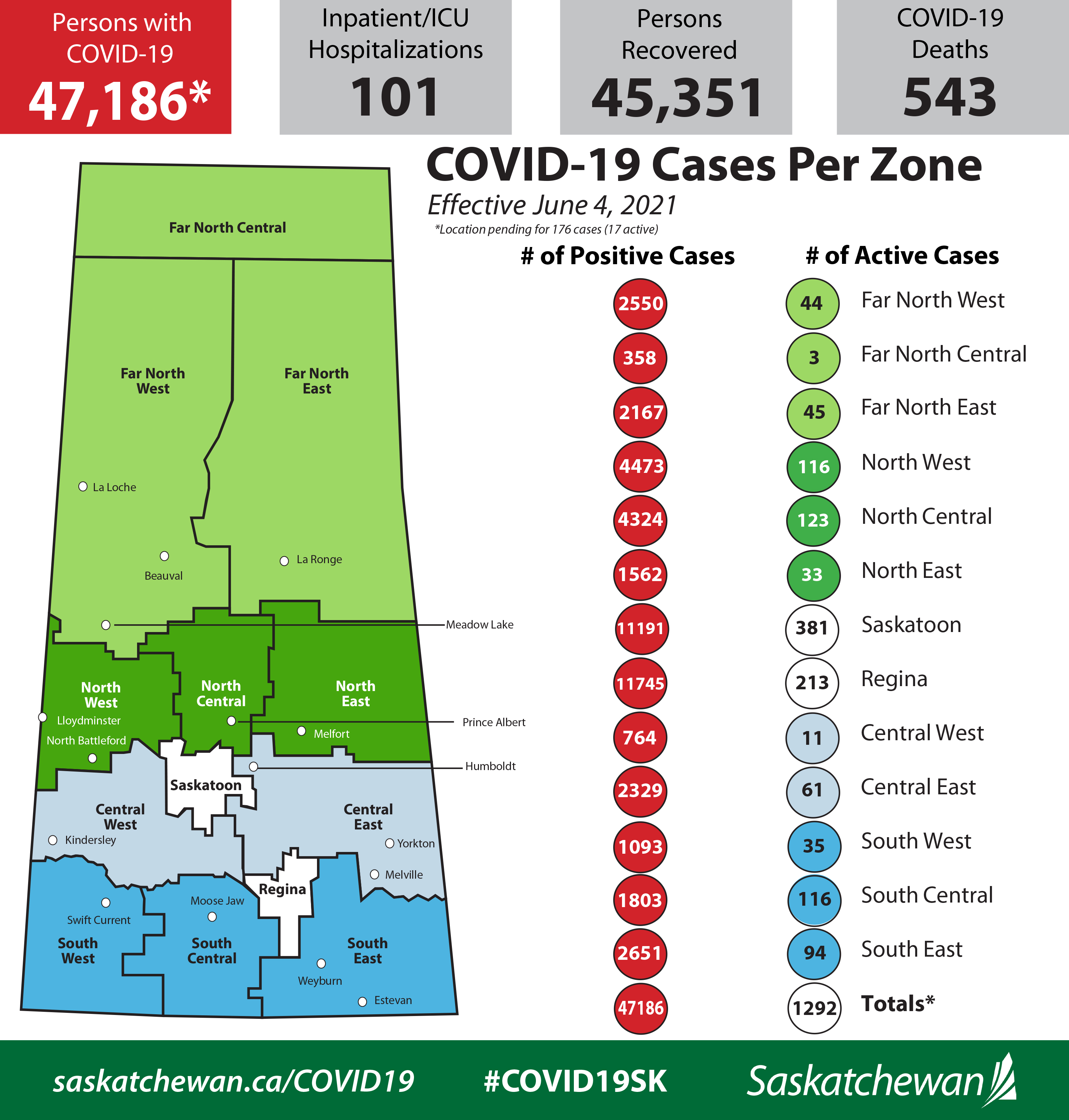 The new cases are located in the following zones: Far North West, 4; Far North East, 13; North West, 9; North Central, 6; North East, 2; Saskatoon, 20; Central West, 1; Central East, 5; Regina, 12; South Central, 11; and South East, 5.
There are 101 people in hospital with 21 of those 101 in the ICU including two transfers from Manitoba.
The seven-day daily average of new cases is at 129.
On the vaccination front. over 15,000 were handed out on Thursday.  The province says 77 per cent of those over the age of 40 have received their first dose. 72 per cent of those 30+ have received their first dose. 67 per cent of those 18+ have received their first dose, while 64 per cent of those 12+ have also received their first dose.
Status of Population Vaccinations, as of June 3, 2021
Group
Estimated
Population
Received
First Dose
Fully 
Vaccinated
Age 80+
51,304
46,772 (91%)
36,315 (71%)
Age 70-79
79,817
71,410 (89%)
32,380 (41%)
Age 60-69
138,471
115,496 (83%)
12,490 (9%)
Age 50-59
147,466
106,877 (72%)
9,716 (7%)
Age 40-49
151,896
100,123 (66%)
8,057 (5%)
Age 30-39
183,246
100,130 (55%)
7,951 (4%)
Age 18-29
189,909
88,096 (46%)
5,704 (3%)
Age 12-17
90,987
28,742 (32%)
127 (0%)