The COVID-19 picture continues to improve in Saskatchewan.
For the sixth straight day, the province is reporting under 200 new cases with 146 being announced on Thursday to go along with 147 new recoveries and no deaths. The active case count is at 1,785.
The new cases are located in the following zones: Far North West, 2; Far North East, 2; North West, 10; North Central, 11; North East, 1; Saskatoon, 52; Central East, 18; Regina, 26; South West, 2; South Central, 8; and South East, 12.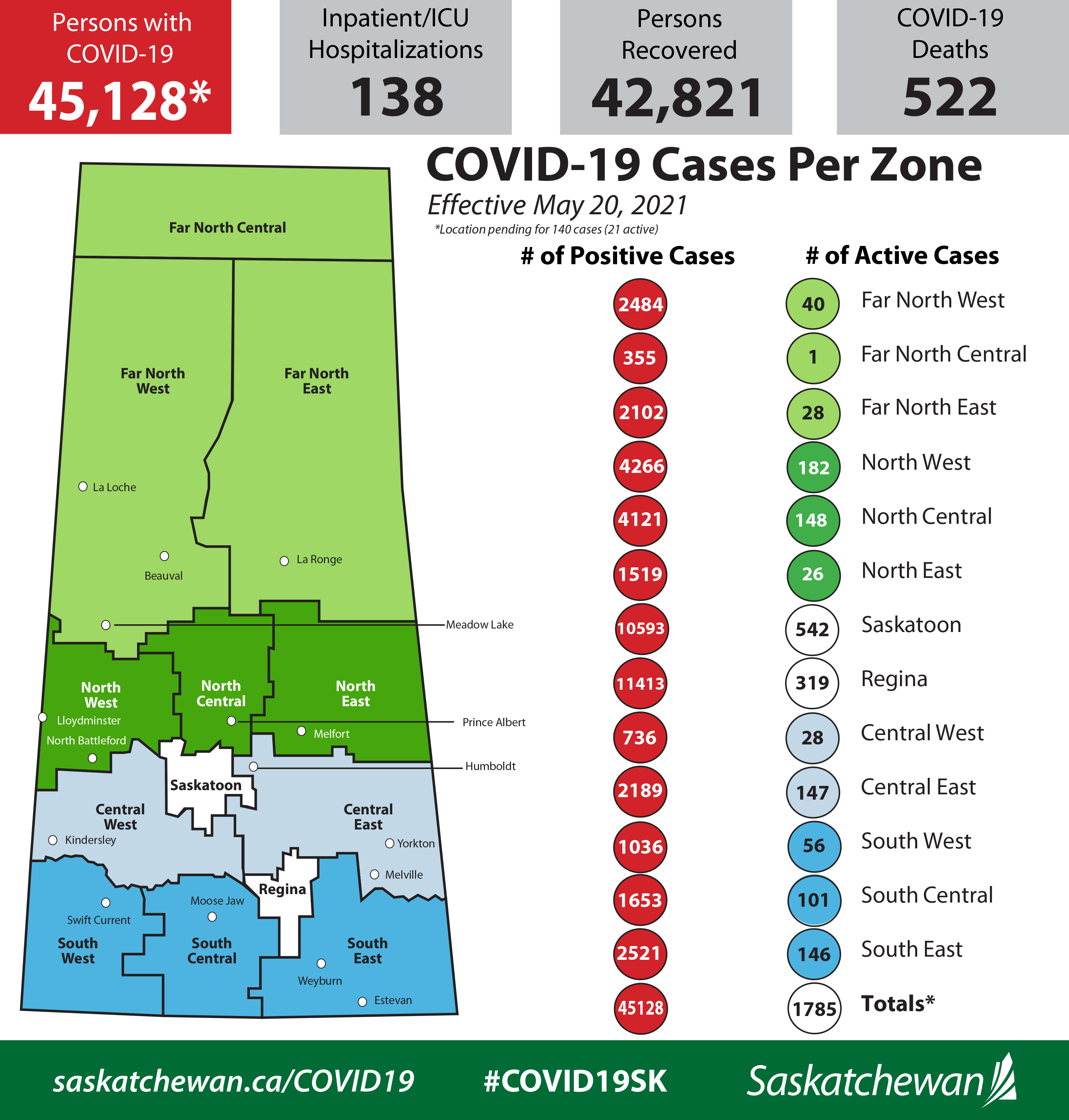 There are 138 people in hospital including 26 who are getting intensive care.
The seven-day daily average of new cases is now at 169 or 13.8 new cases per 100,000.
Just 4800 vaccines were delivered across Saskatchewan Wednesday as the provincial total goes over 620,000.
This week's shipment of 63,180 Pfizer doses has arrived in Saskatchewan. These doses are now being distributed to Regina, Saskatoon, North Battleford, Prince Albert, Indigenous Services Canada (ISC) South, ISC North, ISC North Battleford, Northern Inter-Tribal Health Authority (NITHA) Prince Albert, and pharmacies throughout the province.
Status of Population Vaccinations, as of May 19, 2021
Group
Estimated
Population
Received
First Dose
Fully Vaccinated
Age 80+
51,307
45,603 (89%)
14,731 (29%)
Age 70-79
79,818
70,069 (88%)
6,134 (8%)
Age 60-69
138,471
113,555 (82%)
6,052 (4%)
Age 50-59
147,466
103,235 (70%)
7,397 (5%)
Age 40-49
151,896
94,092 (62%)
6,339 (4%)
Age 30-39
183,246
86,302 (47%)
6,318 (3%)
Age 18-29
189,909
54,050 (28%)
4,527 (2%)
Age 12-17
90,987
1,747 (2%)
60 (0%)