A tentative schedule for when Saskatchewan people over the age of 45 can book their second COVID-19 shot has been released by the government.
The campaign to get second doses has already started for those aged 85 or over. Those 80 and over will be eligible starting May 24.
During Tuesday's COVID-19 update by the government and members of the Saskatchewan Health Authority, Health Minister Paul Merriman said virtually everyone in the province should have a chance to get their second dose by the end of July.
"Think about that for a second. By the end of July, Saskatchewan could be fully vaccinated, but it's up to Saskatchewan people to do their part in getting their shot," Merriman said as he encouraged people to continue their great effort in seeking a vaccine.
"The good news is we are getting more vaccines and we will be reopening the drive-thru in Regina and Saskatoon on Wednesday."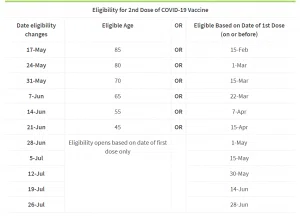 The government does say these timelines could change due to vaccine availability and that AstraZeneca is not included as they are awaiting advice on the use of AstraZeneca for timing of second doses.
Much like first doses, second doses will be made available through SHA drive-thru and walk-in clinics, clinics operated by Indigenous Services Canada and the Northern Inter-tribal Health Authority and pharmacies across Saskatchewan.
You should prepare for your second dose by making sure you know the date of your first dose.  That can be found on the vaccination card you were given when that first dose was given.
If you have misplaced that card, you can go to your MySaskHealthRecord account where the information is.
During your second dose appointment, the clinic or pharmacy will validate the timing and brand of your first dose to ensure you are receiving your second dose within the recommended timeframe. The type of vaccine available at each location will be advertised to ensure that you are receiving the same vaccine brand for your second dose.