Two more people in Saskatchewan have died as a result of COVID-19.  This puts the provincial number of those who have passed away as a result of the virus to 508.  The two who died were both in their 70's with one coming from the East central zone and the other from the north central region.
There are also 183 new infections to report which combined with 238 recoveries puts the active case count at 2,016 with the Regina zone accounting for 460 of those cases.  114 of today's cases contain a variant of concern.
The new cases are located in the following zones: Far North West, 4; North West, 26; North Central, 7; North East, 1; Saskatoon, 52; Central West, 2; Central East, 15; Regina, 41; South West, 3; South Central, 7; and South East, 23.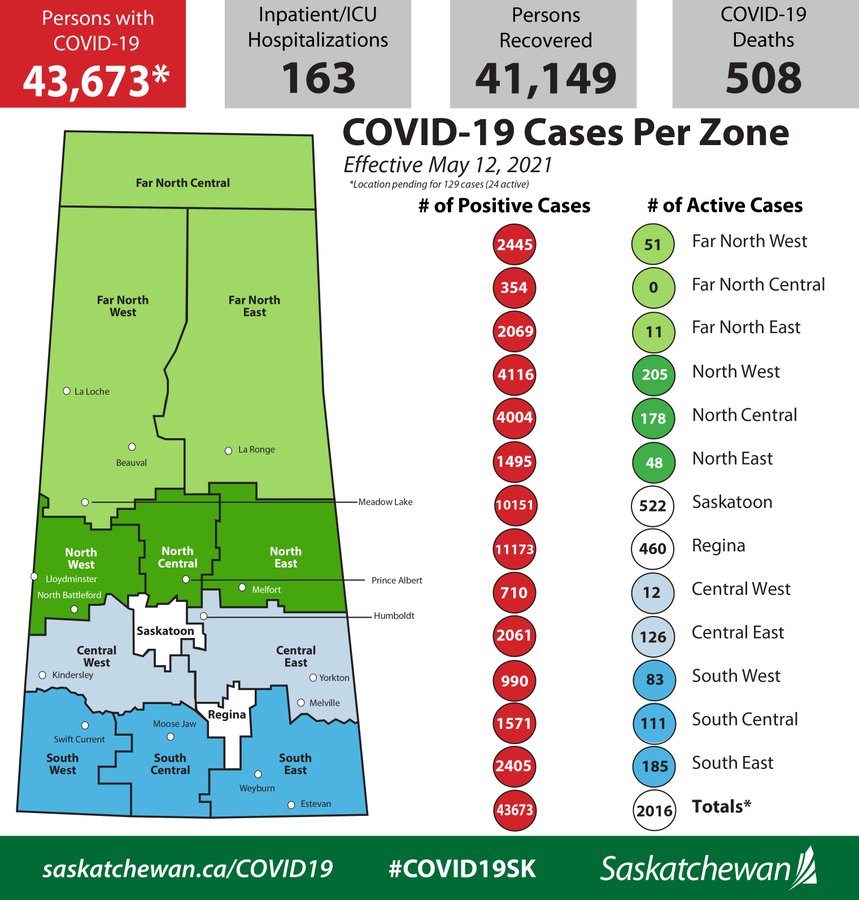 There are 163 people in hospital with 37 of those in intensive care including 19 in Regina.
The seven-day average of new cases now stands at 203.
There were 6,737 vaccines delivered on Monday with the most being administered in Saskatoon.
Status of Priority Population Vaccinations, as of May 11, 2021
Group
Estimated
Population
Received
First Dose
Fully Vaccinated
Age 80+
51,307
45,224 (88%)
12,908 (25%)
Age 70-79
79,818
69,158 (87%)
5,600 (7%)
Age 60-69
138,471
111,092 (80%)
5,454 (4%)
Age 50-59
147,466
99,059 (67%)
6,849 (5%)
Age 40-49
151,896
84,887 (56%)
5,851 (4%)
Age 30-39
183,246
54,116 (30%)
5,884 (3%)
The province is also letting people know that as of May 19, you will get notified of a negative test result through an automated text messaging system.  Starting Friday, the Saskatchewan Health Authority will get information needed from you on that at testing sites.  Those who test positive will still receive a phone call from public health which will give them direction and complete contact tracing.
You will be asked for permission to receive negative test results via a text message when you take your test.