There are 177 new cases of COVID-19 in Saskatchewan, bringing the provincial total to 43,141 cases.  
No new deaths are reported today.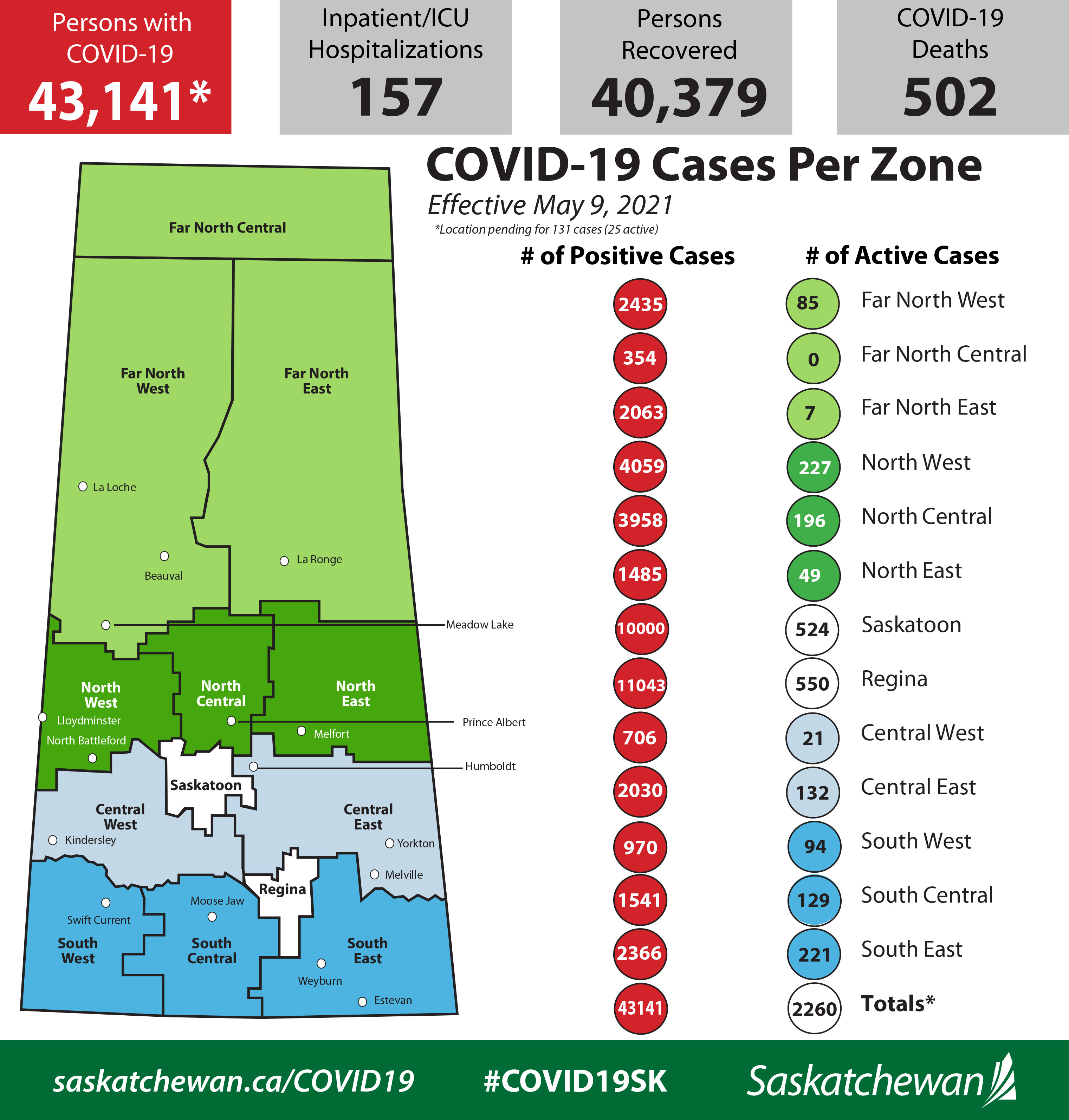 The new cases are located in the following zones: Far North West, 8; North West, 18; North Central, 9; Saskatoon, 40; Central West, 1; Central East, 14; Regina, 42; South West, 11; South Central, 15; and South East, 18.  One new case is pending residence information.  Two new cases with pending residence information has been assigned to the North Central zone (1) and Regina (1).
Recoveries total 40,379 and 2,260 cases are considered active.
There are 157 people in hospital. 116 people are receiving inpatient care, and 41 people are in intensive care.
An additional daily record of 13,651 doses of COVID-19 vaccine have been given in Saskatchewan, bringing the total number of vaccines administered in the province to 518,133.
Status of Priority Population Vaccinations, as of May 8, 2021
Group
Estimated
Population
Received
First Dose
Fully Vaccinated
Age 80+
51,307
45,143 (88%)
12,798 (25%)
Age 70-79
79,818
68,896 (86%)
5,565 (7%)
Age 60-69
138,471
110,321 (80%)
5,378 (4%)
Age 50-59
147,466
97,675 (66%)
6,767 (5%)
Age 40-49
151,896
80,588 (53%)
5,786 (4%)
Age 30-39
183,246
44,238 (24%)
5,809 (3%)