There are 156 new cases of COVID-19 in Saskatchewan with 115 new variants of concern being identified.  That is the lowest one-day total we have seen since March 23.
With 265 recoveries also being announced, the active case count now sits at 2,158.  Of those 2,158 cases, the Regina zone accounts for 574 of them.  On April 1, the Regina zone had 1,046 active cases.
The new cases are located in the following zones: Far North West, 1; Far North East, 1; North West, 11; North Central, 31; North East, 11; Saskatoon, 10; Central East, 10; Regina, 40; South West, 5; South Central, 13; and South East, 22.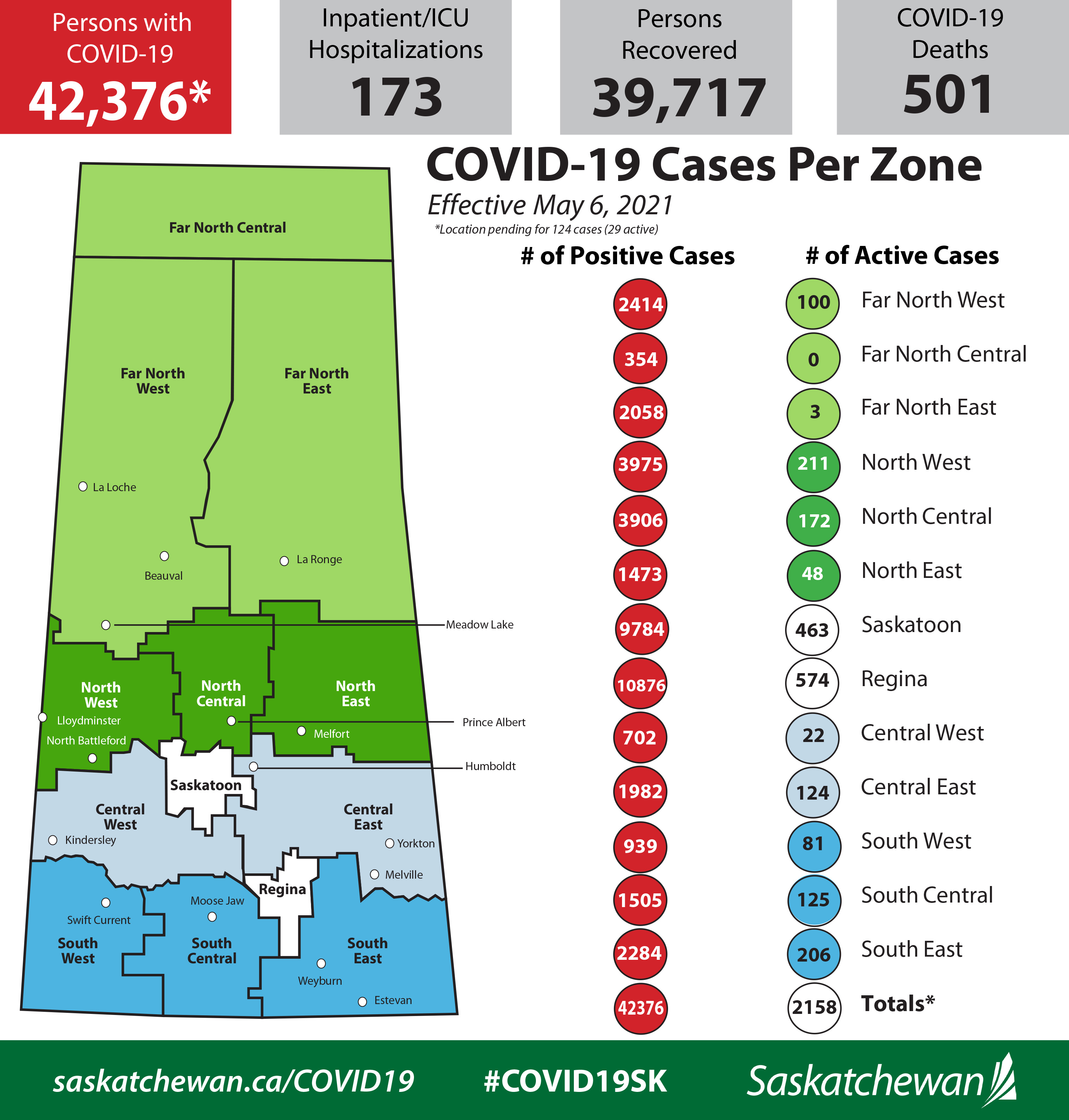 There are 173 people in hospital. 132 are receiving in-patient care and 41 are in intensive care including 23 in Regina.
The seven-day daily average now stands at 216. That number was at 285 on April 15.
Over 10,000 vaccines were handed out as the province inches closer to the 500,000 mark.
Status of Priority Population Vaccinations, as of May 5, 2021
Group
Estimated
Population
Received
First Dose
Received
Second Dose
Age 80+
51,304
44,942 (88%)
12,644 (25%)
Age 70-79
79,817
68,359 (86%)
5,502 (7%)
Age 60-69
138,471
108,676 (78%)
5,234 (4%)
Age 50-59
147,466
94,740 (64%)
6,583 (4%)
Age 40-49
151,896
67,844 (45%)
5,650 (4%)
Age 30-39
183,246
29,651 (16%)
5,706 (3%)