Six more people in Saskatchewan have died as a result of having COVID-19.
The deaths, which bring the provincial total to 482, come from one person in the southeast who was in their 40's, two in their 60's from the Regina zone and the southwest and three aged 80 plus with two coming from the southeast and the other from Regina.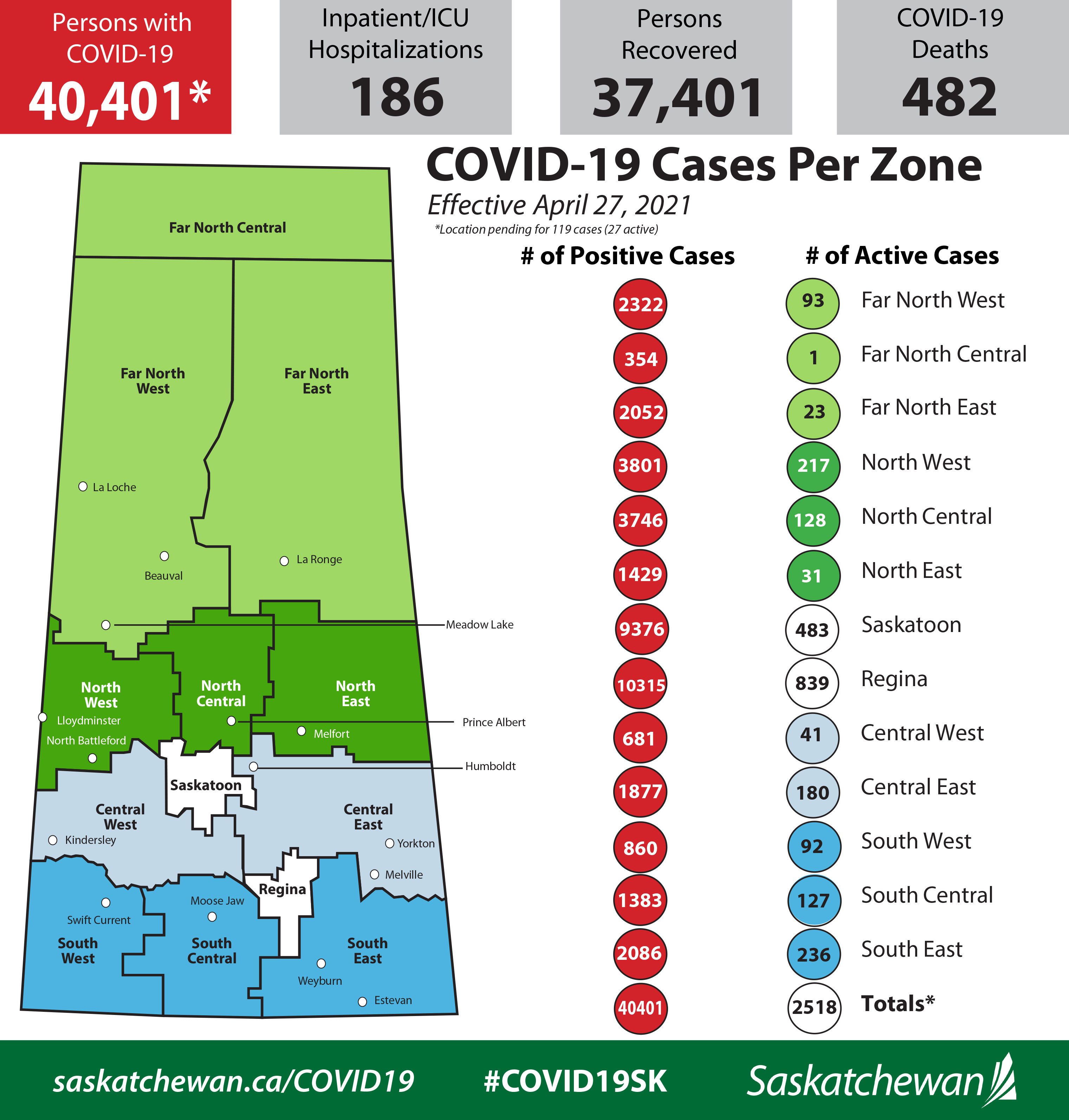 The province says there are 224 new cases to report on Tuesday with 30 of those cases in Regina.  Other new cases are located in the Far North West (8) North West (43) North Central (17), North East (5) Saskatoon (70) Central West (2), Central East (21) South West (4) South Central (6) and South East (11).
There are 186 people in hospital including 42 in the ICU.  Of that 42, 26 are in Regina.
There are 97 new variants of concern that have been identified bringing the provincial total to 6,301.   Only two of those 97 new VoC's come from the Regina zone.  The province adds 14 more Brazilian variants of concern have been identified bringing the total to 19.
The seven-day daily average of new cases stands at 248.
Just over 5,000 vaccines were delivered on Monday meaning over 408,000 people have received at least one shot.
Status of Priority Population Vaccinations, as of April 26, 2021
Group
Estimated
Population
Received
First Dose
Received
Second Dose
Age 80+
51,307
44,504 (87%)
12,171 (24%)
Age 70-79
79,818
67,118 (84%)
5,286 (7%)
Age 60-69
138,471
103,590 (75%)
4,997 (4%)
Age 50-59
147,466
80,933 (55%)
6,309 (4%)
Age 40-49
151,896
34,862 (23%)
5,440 (4%)