There are 286 new cases of COVID-19 in Saskatchewan with two more deaths and 189 more variants of concern identified including 90 in Regina.
The daily release from the government shows the new cases are located in the Far North West (15), North West (28), North Central (25), North East (4), Saskatoon (55), Central West (1), Central East (16), Regina (90), South West (18), South Central (10) and South East (15) zones.   With 194 recoveries being announced, it puts the active case count at 2,558 with the Regina zone having 849 of those cases.
The two who died are both from the Regina zone and were both in their 70's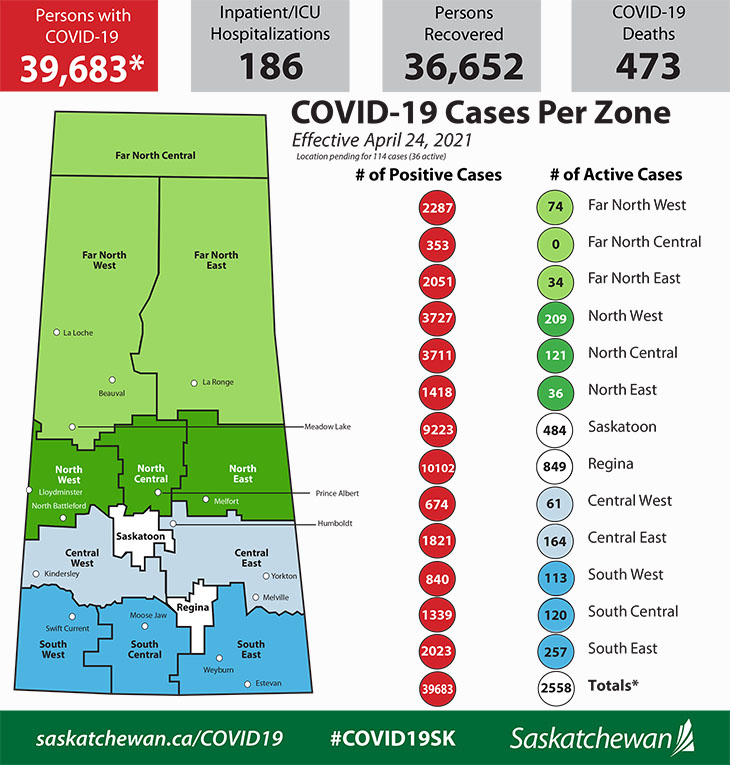 186 people are in hospital including 51 in intensive care.  Of those 51, 34 are in Regina and 11 are in Saskatoon.
The seven-day average of new COVID-19 case number was 257.
Over 10,000 vaccines were delivered Friday with the most coming from Saskatoon.
Status of Priority Population Vaccinations, as of April 23, 2021
Group
Estimated 
Population
Received 
First Dose
Received 
Second Dose
Age 80+
51,307
44,397 (87%)
12,161 (24%)
Age 70-79
79,818
66,749 (84%)
5,277 (7%)
Age 60-69
138,471
101,309 (73%)
4,957 (4%)
Age 50-59
147,466
74,997 (51%)
6,274 (4%)
Age 40-49
151,896
29,300 (19%)
5,409 (4%)