The province is reporting 217 new COVID-19 infections on Tuesday.  Of those 217 cases, 97 are from Regina bringing the total amount of active cases in the region to 1,096.  That still accounts for just under half of the total active cases (2,195) in the province.
The other new cases are located in the Far North West (5), North West (11), North Central (3), North East (2), Saskatoon (30), Central East (17),  South West (1), South Central (14), and South East (36) zones.
Three more people have died bringing the provincial total to 443.  The three are someone in their 60's from the North Central zone along with a person in their 70's and someone aged 80 or over from the Regina zone.
There are 202 people in hospital which is an increase of seven from Monday's report. Of those 202, 44 are in the ICU which is down three from Monday.
As of April 5, 2,677 variants of concern have been identified.   That is an increase of 224 from Monday's report.   They have been reported in the Far North West (1), Far North East (4) North West (4), North Central (18), Saskatoon (163), Central West (12), Central East (52), Regina (1,898), South West (11), South Central (232) and South East (214) zones.
The seven-day daily average of daily new cases is 226 or 18.4 new cases per 100,000.
5,938 does of COVID-19 vaccine were administered on Monday bringing the total number of people who have received at least one shot to 227,471.
The province says one out of every ten Saskatchewan residents in their 50's have received their first dose with one-third of residents in their 60's and more than two-thirds of Saskatchewan citizens in their 70's receiving their first dose.  A shipment of 14,700 Moderna doses are expected to arrive in Saskatchewan on Wednesday.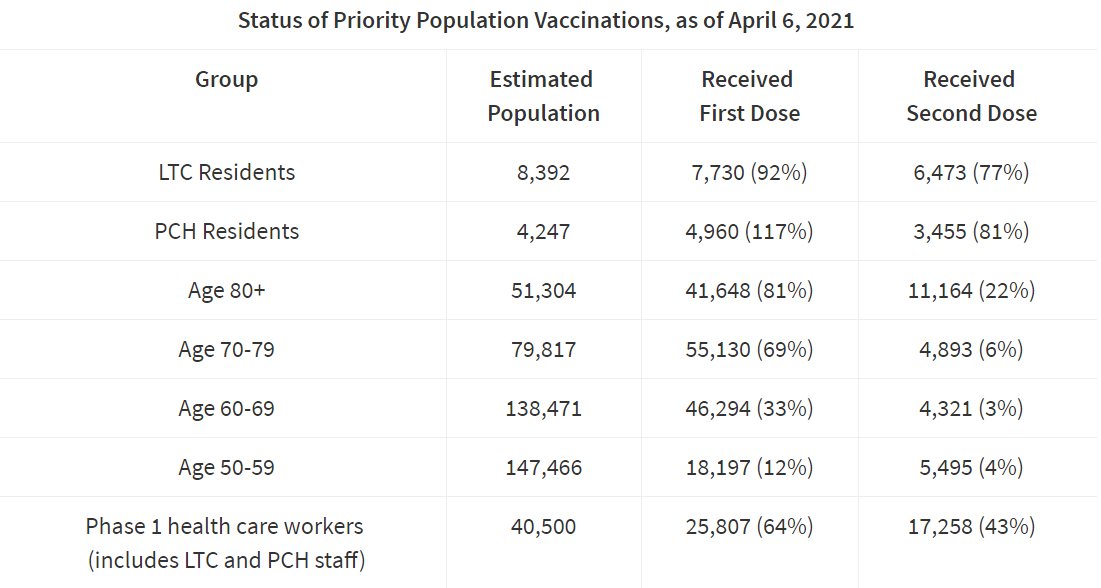 Just over 2,900 tests were processed in Saskatchewan on Monday.