COVID-19 numbers continue to be very high in Regina.
Once again, the Regina region has the majority of new cases in the province as out of 199 new cases, 115 are in Regina.  The other new cases are located in the Far North East (3), North Central (9), North East (10), Saskatoon (14), Central West (1), Central East (5), South West (1), South Central (13) and South East (28) zones.
With 205 new recoveries, the active case count drops slightly to 1,949.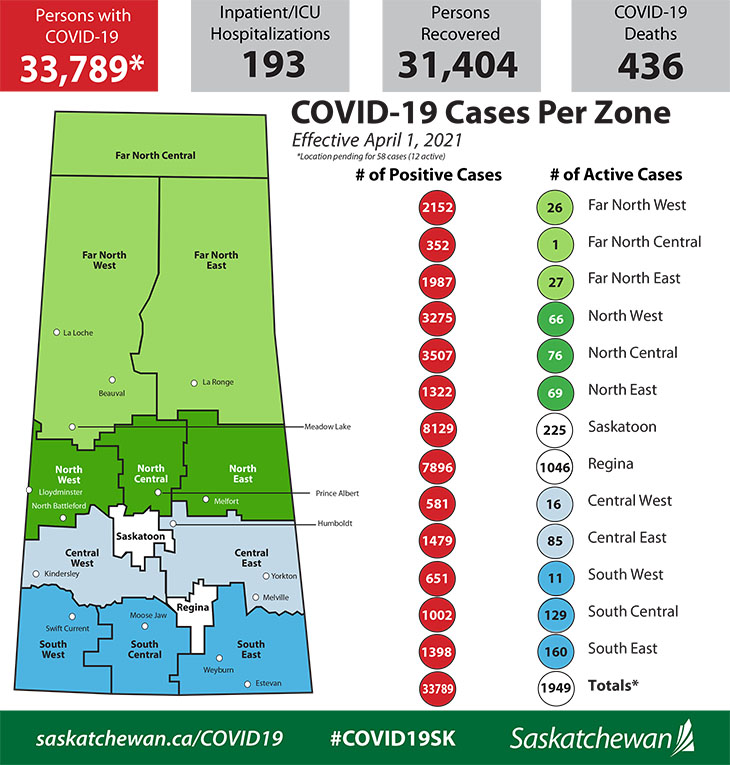 There are 193 people now in hospital with 34 receiving intensive care.  Those numbers are substantially higher from what we have seen, but the province says that is due to a discrepancy being reported by the Saskatchewan Health Authority.
In a statement from Health Minister Paul Merriman, he says data reported in the March 31st update showed 166 patients in hospital with 23 in ICU, but those numbers were not accurate as they should have said 192 with 33 in intensive care.
Merriman says he has met with SHA CEO Scott Livingstone to discuss the matter and express his disappointment over the error saying the public has a rightful expectation that the information they are getting is accurate.  The discrepancies in previous reports were a result of how patients who receive intensive care in a surge bed outside of an ICU were being recorded.
The province adds there are now 1,682 variants of concern which is an increase of just eight from Thursday's report.  Regina has 1,348 of those 1,682 variants of concern.
The seven-day daily average now sits at 206.
On the vaccine front, 7,706 were delivered on Thursday pushing the total amount of vaccines over the 200,000 mark.  Regina and Saskatoon saw the most vaccines administered on Thursday.
The AstraZeneca shipment from the United States arrives Friday and deliveries are on route to Regina (29,100), Saskatoon (11,000), North Battleford (900), and Prince Albert (4,300). A Moderna shipment is expected the week of April 12.