There are 174 new cases of COVID-19 to report in Saskatchewan with 86 of those happening in the Regina zone.
It means Regina now has 583 of the province's 1,345 active cases or 43.3 percent.  The 583 active cases are the most Regina has had since January 19. The other new cases are located in the Far North East (3), North West (8), North Central (8), North East (11), Saskatoon (20), Central East (12),  South West (4), South Central (6) and South East (11) zones.
As of March 19, there are twenty-one (21) new confirmed variants of concern (VOC) cases to report. There are 156 confirmed variants of concern cases in Saskatchewan: 149 B1.1.1.7 (UK) and seven B1.351 (SA). The Regina zone accounts for 141 (or 90 per cent) of the confirmed VOC cases reported in Saskatchewan.
In addition to the confirmed cases, there are currently 508 presumptive VOC cases reported in the Far North East (1), Saskatoon (13), Central East (6), Regina (434), South Central (30) and South East (24) zones.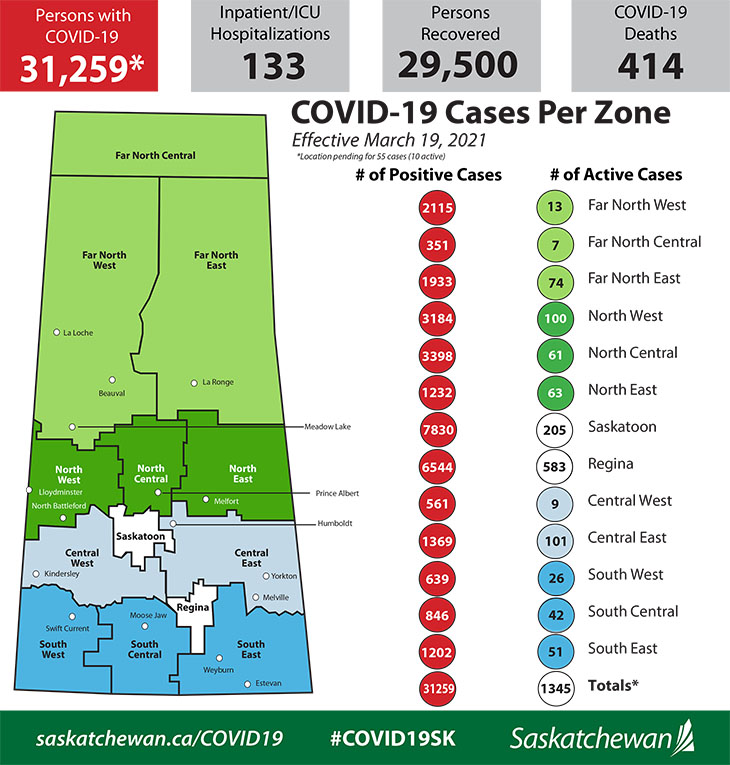 Three more people have died meaning 414 people have now lost their lives in Saskatchewan due to the virus.  The latest to pass away are someone over the age of 80 in the West central zone, someone in their 60's from the Far Northwest zone and someone in their 50's from the Far North Central zone.
133 people are in hospital with 27 of those in the intensive care unit.
The seven-day daily average of new cases is 128 or 10.4 new cases per 100,000 population.
6,867 vaccines were given out on Thursday with 3,307 being delivered in Regina. 2,107 were delivered at the Regina drive thru clinic location alone.