The amount of those in the province who have died as a result of COVID-19 now stands at 215 after three more were reported Sunday.
One reported death was in the 60-69 age group in the Far North West zone. Two new deaths in the 80+ age group were reported in the North Central and Regina zones.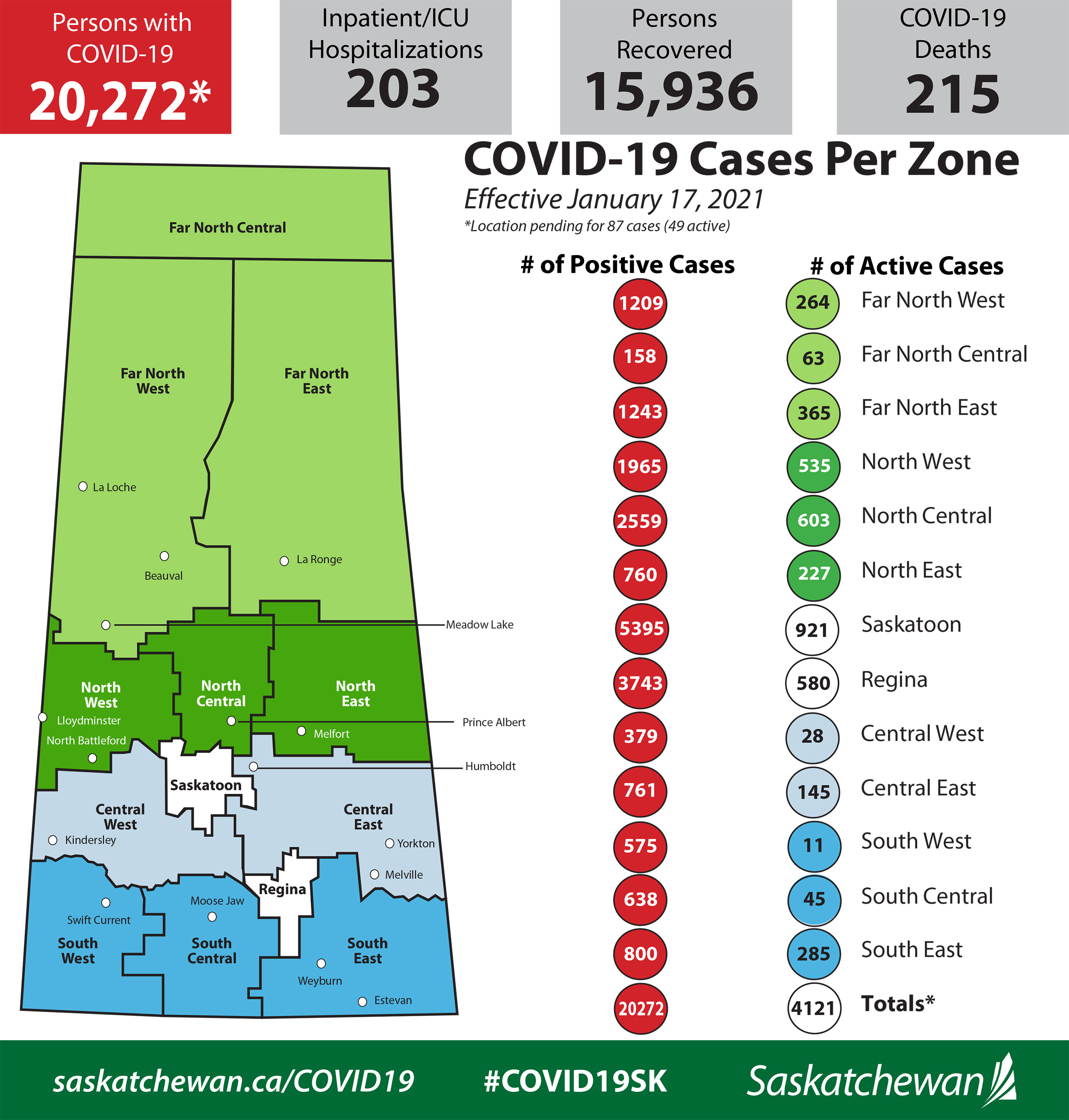 There are 287 new cases to report on Sunday to go with 207 recoveries putting the active count at 4,121. Two weeks ago that number stood at 2,841 as the post-Christmas surge continues.
The new cases are located in the Far North West (34), Far North Central (1), Far North East (10), North West (21), North Central (23), North East (33), Saskatoon (94), Central West (3), Central East (9), Regina (37), South West (1) and South East (13) zones, while eight new cases have pending residence information.
Five cases with pending residence information were assigned to the Far North East (3) and North West (2) zones.
The seven-day average of daily new cases is 308 (25.5 new cases per 100,000 population).
203 people are in hospital with 170 of those receiving inpatient care and 33 in intensive care.  16 of those 33 are in Saskatoon and another 10 in Regina.
There were 3,232 doses of COVID-19 vaccine administered yesterday in Saskatchewan – the highest one-day total to date. This brings the total number of vaccines administered in the province to 20,159.
The doses were administered in the following zones: Regina (453), Saskatoon (749), North Central (766), Far North West (77), Far North East (42) and South East (1145). No data for January 15 or 16 from the Far North Central is available at this time.
During the weekend, 975 doses of the Pfizer vaccine were sent to North Battleford. Clinics begin on Monday for priority health care workers. On Tuesday, the vaccine will be provided to long-term care residents and staff in North Battleford, Wilkie and Lloydminster.