105 people in Saskatchewan have now died as a result of COVID-19.
On Thursday, the province announced seven more people have died.  Five of the seven were aged 80 and over with three coming from Regina, one from Saskatoon and one from the Southwest region.  It is believed two of the three from Regina are from the Parkside Extendicare long-term care home as 20 residents from that facility have perished because of an outbreak.  The other two deaths are a person in their 40's from the Southeast and a person in their 60's from the north-central area.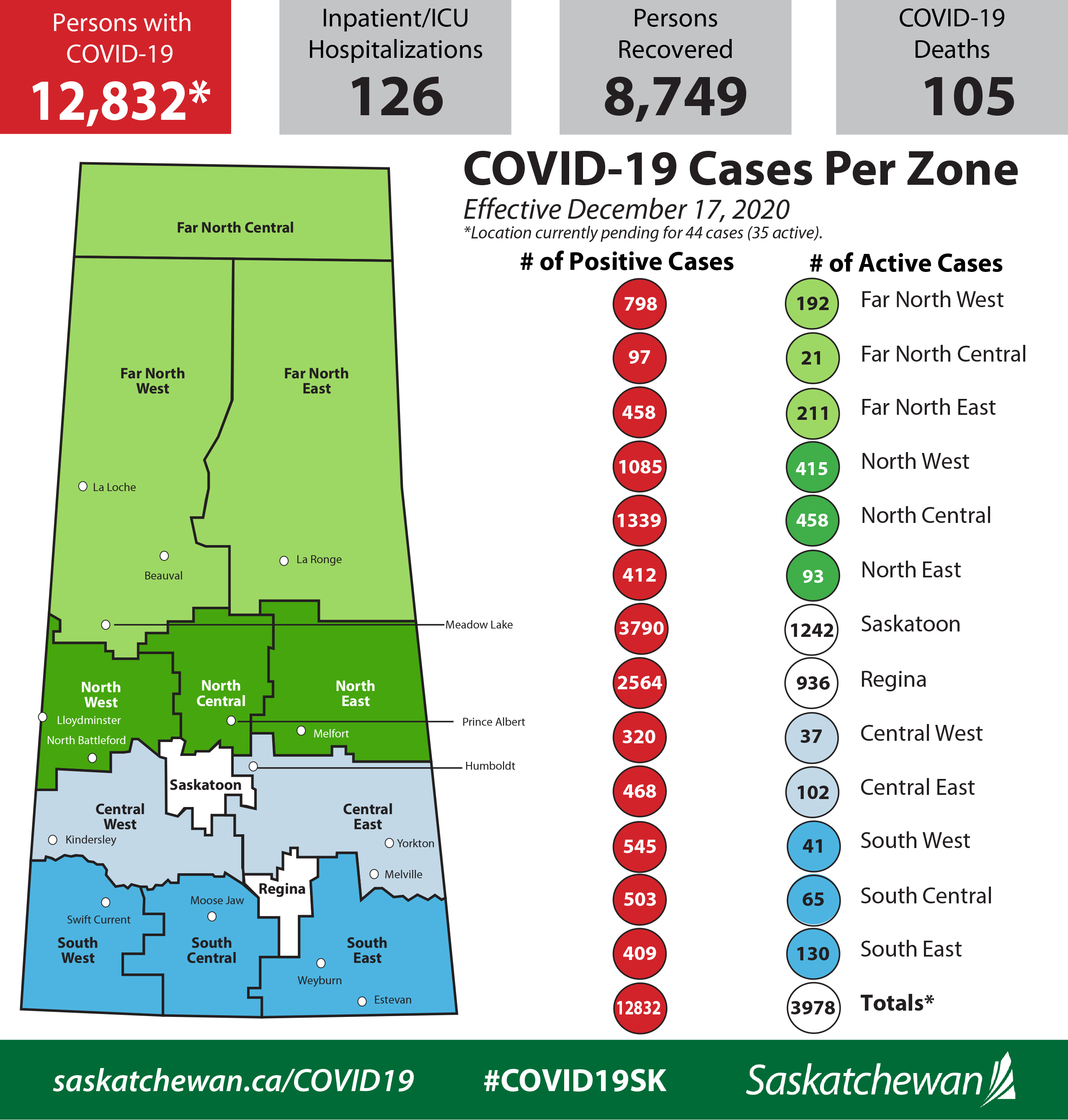 238 new cases were announced on Thursday bringing the seven day average of daily new cases down to 230 from a figure of 243 on Wednesday.
The new cases are located in the Far North West (5), Far North Central (1), Far North East (15), North West (26), North Central (32), North East (9), Saskatoon (81), Central East (7), Regina (40), South West (3), South Central (7) and South East (3) zones and nine (9) new cases have pending residence information.
Five previously reported cases with pending residence information have been assigned to the Far North Central (1), Far North East (1) and North Central (3).
With 466 recoveries, the active case count is back below the 4,000 mark as it sits at 3,978.  Regina's active case count is now back below 1,000 as it sits at 936.
126  people are in hospital which is an increase of two from Wednesday's numbers. 104  are receiving inpatient care: three in the Far North West, nine in the North West, 16 in the North Central, 44 in the Saskatoon, one in the Central West, two in the Central East, 23 in the Regina, one in the South Central and five in the South East zones. 22 people are in intensive care which is down from 30 on Wednesday.  Eight of the 22 are in Regina, nine in Saskatoon and five in North Central.
In addition, the isolation period for COVID-19 positive individuals is being reduced from 14 to 10 days effective immediately. Individuals who are already currently in self-isolation should still continue to wait for a call from public health to confirm they are recovered.
Individuals who are self-isolating as a result of being a close contact must continue to self-isolate for 14 days as it can take several days for symptoms to appear. Once symptoms appear individuals must self-isolate for 10 days from the onset of symptoms. Immunocompromised persons should follow the isolation period recommendations of public health and follow up with their physician or oncologist.