The amount of people in hospital due to COVID-19 keeps going up.
68 are now in hospital which is an increase of six from Sunday's numbers. Of the 68, 16 people are in intensive care including five in Regina. On October 16, only nine people were in hospital
The news comes as the province reports 181 new cases of the virus and 60 recoveries putting the active case count at 1,928.,
The new cases are located in the Far North West (11), Far North Central (5), Far North East (16), North West (13), North Central (18), North East (11), Saskatoon (41), Central East (5), Regina (32), South West (17), South Central (2) and South East (5) zones and five (5) new cases have pending residence information.
Four cases with pending residence information were assigned to North Central (3) and North East (1) zones.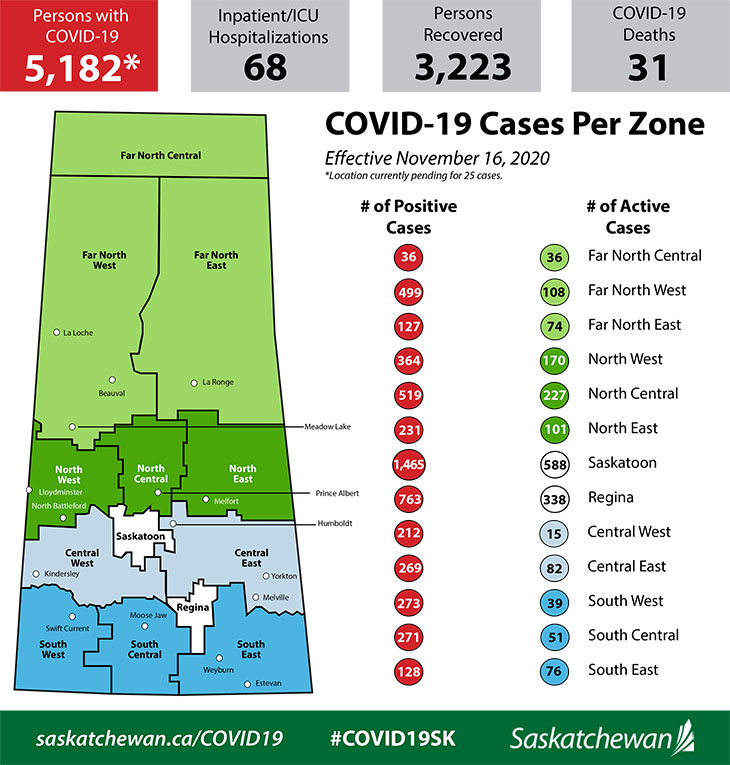 Overall in Saskatchewan to date:
1,081 cases involve people 19 years of age and under, while the remainder are adults.
1,894 cases are in the 20-39 age range; 1,424 are in the 40-59 age range; 643 are in the 60-79 age range; and 134 are in the 80-plus range. Confirmation of age is pending for six cases.
51 per cent of the cases are females and 49 per cent are males.
31 deaths related to COVID-19 have been reported to date.
3,134 tests were processed on Sunday bringing the provincial total to 300,038.
On Sunday, Premier Scott Moe used his social media accounts to say the province is considering additional measures to help stop the spread of the virus. An update with provincial chief medical health officer Dr. Saqib Shahab is happening Tuesday afternoon. At that time, the topic of potential additional steps may be brought up.