31 people in Saskatchewan have now died from COVID-19. Two residents from the North Central zone, one in their 20's and one in their 80's passed away in the latest report from the government on the virus.
The Sunday numbers show 181 new cases with 63 recoveries and 62 in hospital. The 181 cases puts the provincial total at 5,001. The new cases are located in the Far North West (9), Far North East (7), North West (16), North Central (9), North East (6), Saskatoon (64), Central West (2), Central East (1), Regina (28), South West (1), South Central (10) and South East (18) zones and 10 new cases have pending residence information.
With the 63 recoveries, the active case count is now at 1,807.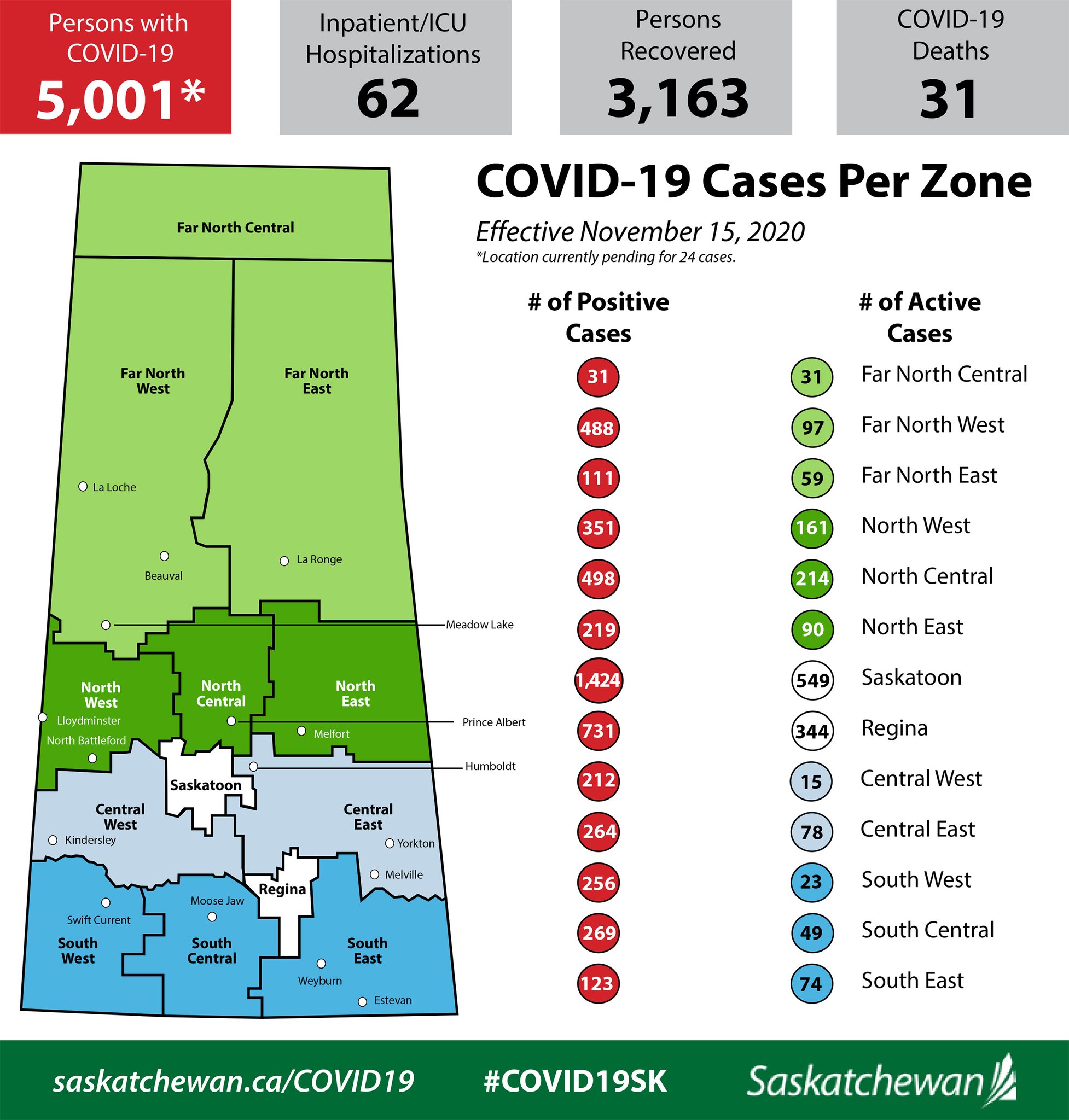 62 people are in hospital. 46 are receiving inpatient care; one in the Far North West, one in the Far North East, three in the North West, four in North Central, three in the North East, 25 in Saskatoon, two in Regina, two in the South West, one in South Central and four in the South East zone. Sixteen people are in intensive care; one in the North West, three in North Central, seven in Saskatoon, two in Central East and three in Regina.
Overall in Saskatchewan to date:
1,036 cases involve people 19 years of age and under, while the remainder are adults.
1,842 cases are in the 20-39 age range; 1,381 are in the 40-59 age range; 616 are in the 60-79 age range; and 126 are in the 80-plus range.
51 per cent of the cases are females and 49 per cent are males.
31 deaths related to COVID-19 have been reported to date.
Of 5,001 confirmed cases:
1,424 cases are from the Saskatoon area
1,068 cases are from the north area (351 north west, 498 north central, 219 north east)
731 cases are from the Regina area
648 cases are from the south area (256 south west, 269 south central, 123 south east)
630 cases are from the far north area (488 far north west, 31 far north central, 111 far north east)
476 cases are from the central area (212 central west, 264 central east)
24 cases have pending residence information
2,967 tests were processed in Saskatchewan Saturday putting the provincial total to 297,704.
Shortly after the numbers were released, Premier Moe indicated through his social media accounts that further measures may be coming
In consultation with public health officials, further measures are being considered. We must all step up our efforts to keep one another safe.

Thanks Saskatchewan.

– Scott Moe (@PremierScottMoe) November 15, 2020