For the third time this week, the province has hit triple digits when it comes to COVID-19 cases as 159 new ones were announced Sunday.
The new cases are mainly located in the province's two main cities as Saskatoon had 48 and Regina 23. The others are located in Far North West (7), Far North Central (3), Far North East (2), North West (14), North Central (18), North East (16), Central West (1), Central East (11), South West (5), South Central (3) and South East (5) zones. Three new cases have pending residence information.
One resident who tested positive for COVID-19 has died: the individual was in their 80s and was from the Saskatoon zone. This brings the total number of deaths in the province to 28.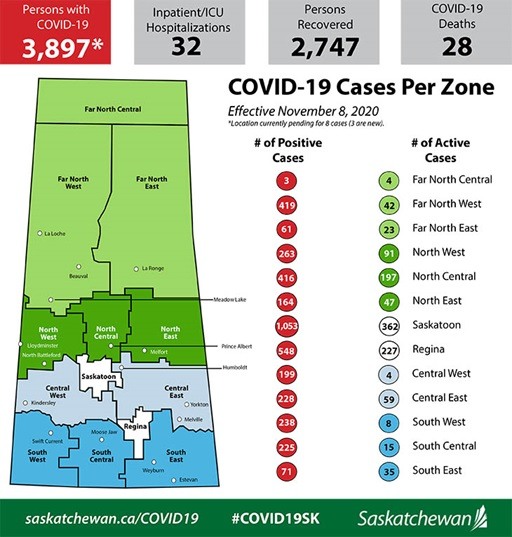 Of the 3,897 reported cases, 1,122 are considered active. A total of 2,747 people have recovered.
Thirty-two people are in hospital. Twenty-five people are receiving inpatient care; one in the Far North West, two in North West, seven in North Central, nine in Saskatoon, five in the Regina and one in the South West. Seven people are in intensive care; one in North Central, four in Saskatoon and two in Regina.