87 new cases of COVID-19 were announced by the province Friday making it 557 cases for the last seven days.
There were 53 recoveries putting the active case count at 911.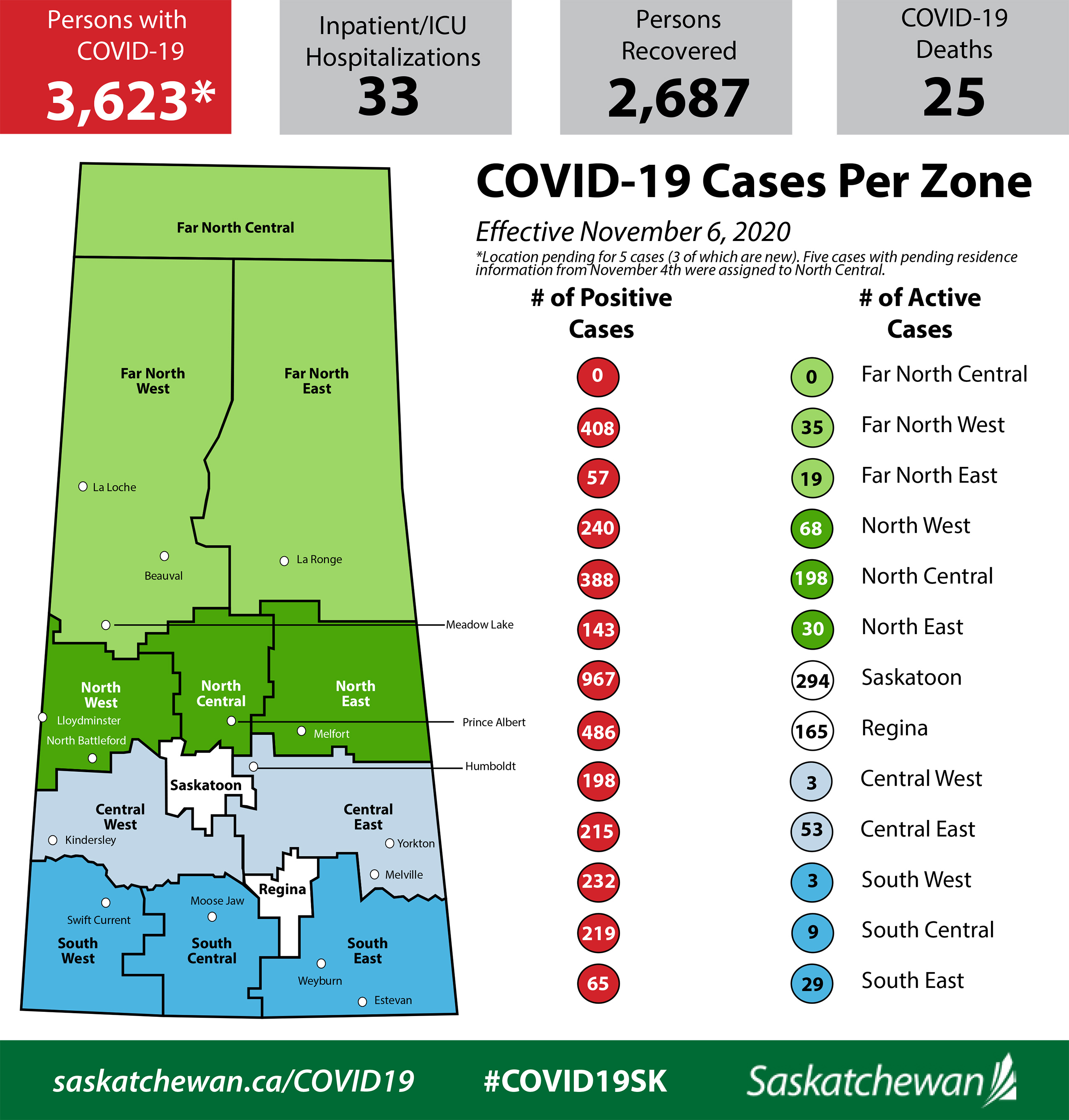 The new cases are located in the Far North West (8), Far North East (1), North West (8), North Central (3), Saskatoon (25), Central East (11), Regina (20), South West (1), South Central (2) and South East (5) zones. Location information is pending for three new cases.
Five cases with pending residence location from November 4 were assigned to the North Central zone.
The Roy Romanow Provincial Laboratory experienced technical difficulties Tuesday with the validation of COVID-19 tests, resulting in nine confirmed cases included in Friday's case total.
33 people are in hospital. 29 people are receiving inpatient care; one in the Far North West, three in North West, eight in North Central, 10 in Saskatoon and seven in the Regina zones. Four people are in intensive care; one in North Central, two in Saskatoon and one in Regina.
Overall in Saskatchewan to date:
739 cases involve people 19 years of age and under, while the remainder are adults.
1,317 cases are in the 20-39 age range; 1,026 are in the 40-59 age range; 449 are in the 60-79 age range; and 92 are in the 80-plus range.
51 per cent of the cases are females and 49 per cent are males.
25 deaths related to COVID-19 have been reported to date.
There are:

967 cases from the Saskatoon area
771 cases from the north area (240 north west, 388 north central, 143 north east)
516 cases from the south area (232 south west, 219 south central, 65 south east)
486 cases from the Regina area
465 cases from the far north area (408 far north west, 0 far north central, 57 far north east)
413 cases from the central area (198 central west, 215 central east)
Five (5) cases currently have pending residence location
2,217 tests were processed Thursday putting the provincial total at 275,737