For the second straight day, Saskatchewan is reporting 74 new COVID-19 cases.
The new cases are located in the Far North West (1), North West (5), North Central (22), North East (1), Saskatoon (18), Central West (1), Central East (1), and Regina (14) zones.
Eleven of cases reported today have pending residence locations. One case reported October 21 has been assigned to the North West zone.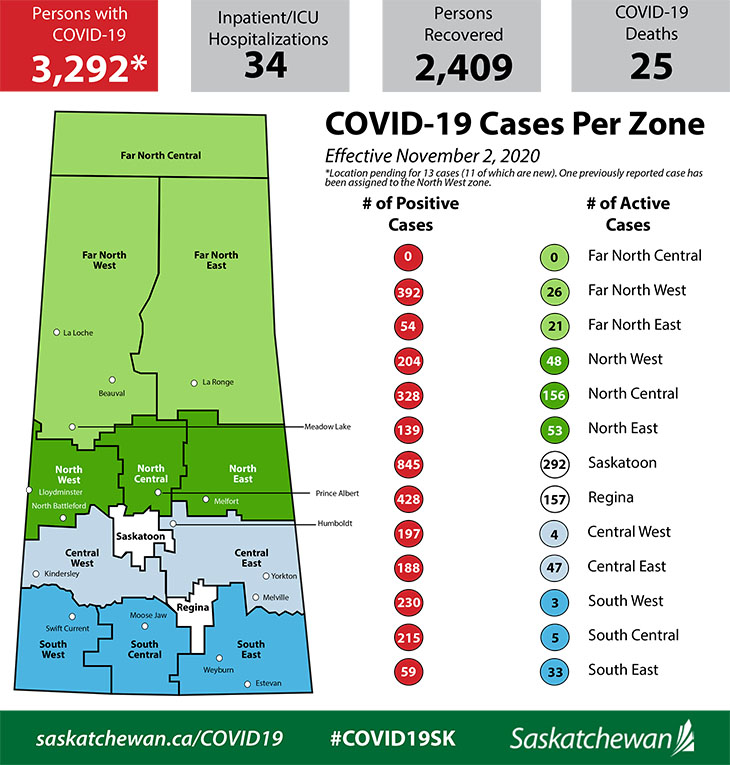 Thirty-four people are in hospital. Twenty-seven people are receiving inpatient care; two in the North West, seven in the North Central, one in the North East, 11 in the Saskatoon and six in the Regina zone. Seven people are in intensive care; two in the North Central, four in Saskatoon and one in Regina.
Overall in Saskatchewan to date:
661 cases involve people 19 years of age and under, while the remainder are adults.
1,207 cases are in the 20-39 age range; 929 are in the 40-59 age range; 412 are in the 60-79 age range; and 83 are in the 80-plus range.
50 per cent of the cases are females and 50 per cent are males.
The Saskatchewan Health Authority is also announcing drive-thru testing is now available in Yorkton. People can go to 276 Myrtle Avenue from Monday-Friday between 1-3:30 p.m.
Drive-thru testing is already being done in Regina and Saskatoon.
On Sunday, 2,363 tests were performed in Saskatchewan bringing the provincial total to 268,166