Good news and bad news from the province when it comes to COVID-19 numbers in Saskatchewan.
The good news is that the case load dropped by over 20 from Monday's one-day record high of 66 as there are 44 new cases, but the bad news is that is still above the seven-day average of 38.
The new cases are located in the Far North West (2), Far North East (1), North West (3), North Central (5), North East (7), Saskatoon (20), Central East (2), Regina (3) and South Central (1) zones.
Public health investigations are underway to determine the source of transmission for all new cases. Saskatoon's new cases continue to be primarily linked with outbreaks at local nightclubs.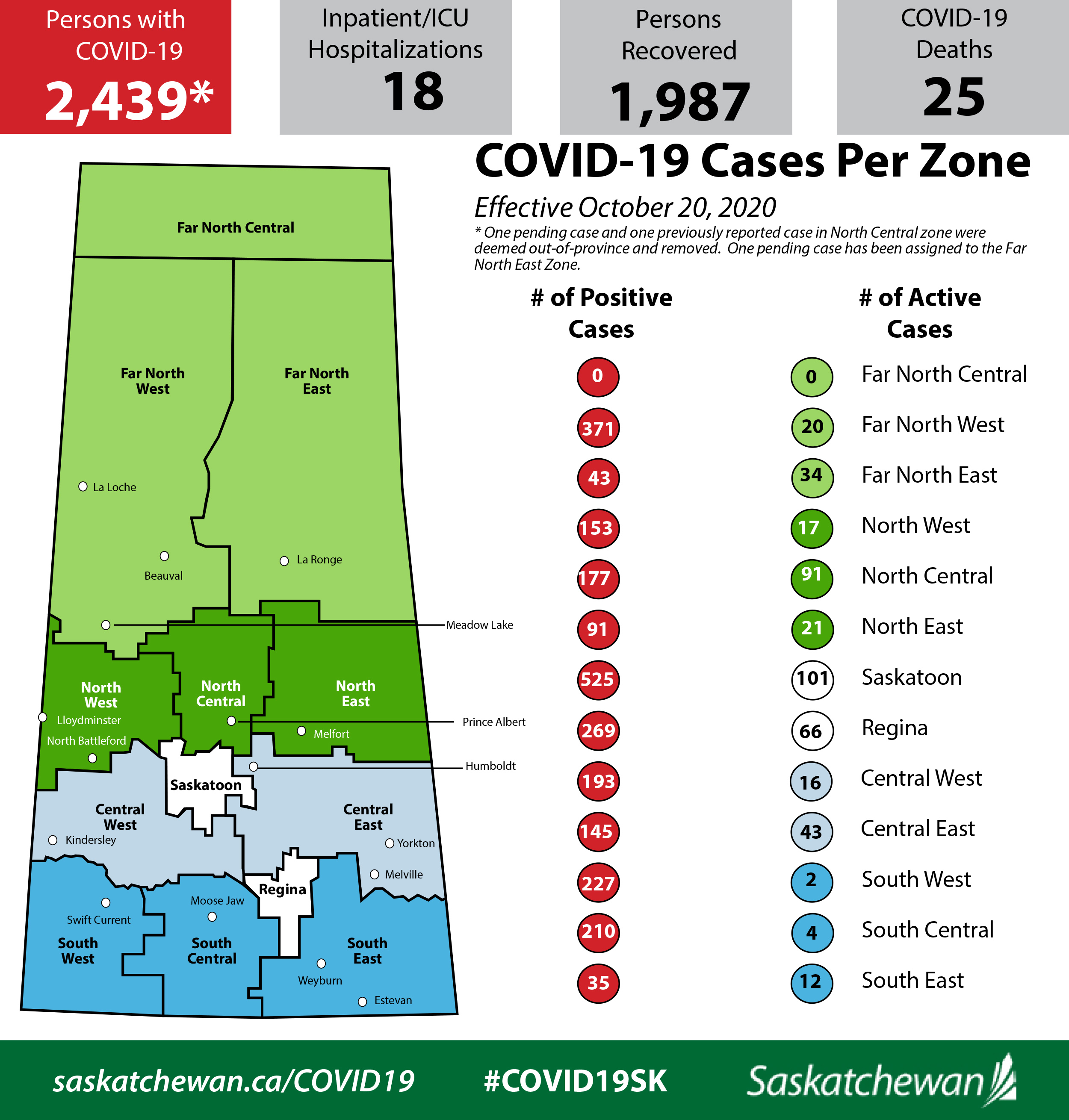 14 recoveries were also announced meaning the active case total is at 427 with 101 of those in Saskatoon, 91 in the north central (Prince Albert) and 66 in Regina.
Eighteen people are in hospital. Sixteen people are receiving inpatient care; seven in the Saskatoon zone, two in the Regina zone, six in the North Central zone, one in the Central East zone. Two people are in intensive care, one in Saskatoon and one in Regina.
Overall in Saskatchewan to date:
82 cases are healthcare workers; however, the source of the infections may not be related to healthcare in all instances.
446 cases involve people 19 years of age and under, while the remainder are adults.
842 cases are in the 20-39 age range; 718 are in the 40-59 age range; 357 are in the 60-79 age range; and 76 are in the 80-plus range.
51 per cent of the cases are females and 49 per cent are males.
25 deaths related to COVID-19 have been reported to date.
2,513 tests were performed in Saskatchewan on Monday bringing the provincial total to 235,530.