The Sunday numbers from the province on COVID-19 shows that there has been a 25th death.
It is the first death from the virus since August 26. The age, gender and location of that individual has not been released.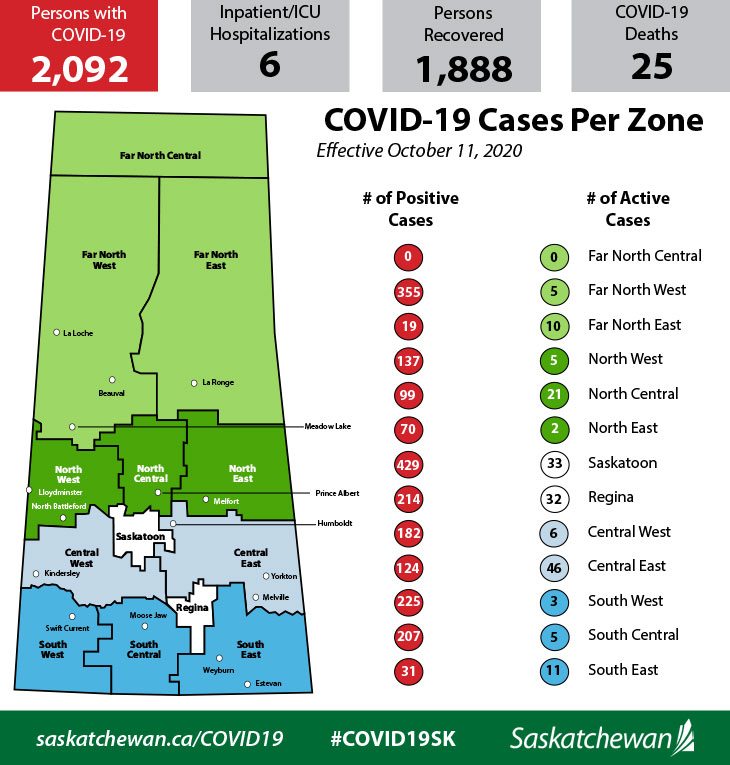 The news comes at the same time as 24 new cases are being announced with 11 of them in Regina. The other new cases are located in the Far North West (1), Far North East (2), North West (3), North Central (5), Saskatoon (1), andSouth East (1) zones.
Initial public health investigations have linked 12 of the new cases to the Gospel Outreach outbreak in Prince Albert. The majority of the new Regina cases appear to be linked to a single apartment complex; residents and management have been advised on precautions to take. Increasing case numbers and a rise in community transmission have sparked a call from Saskatchewan's Chief Medical Health Officer for renewed vigilance and increased caution. Dr. Saqib Shahab is reiterating the strong recommendation that masks be worn in all indoor public locations where people outside of your immediate or extended household are present and physical distancing is not possible or is unpredictable.
There are five recoveries putting the total of active cases at 179.
Six people are in hospital. Four people are receiving inpatient care; three in Saskatoon and one in Regina. Two people are in intensive care; one in Regina and one in Saskatoon.
On Saturday, 3,049 COVID-19 tests were performed in Saskatchewan – the highest daily number of tests reported to date, 214,369 COVID-19 tests have been performed in Saskatchewan.